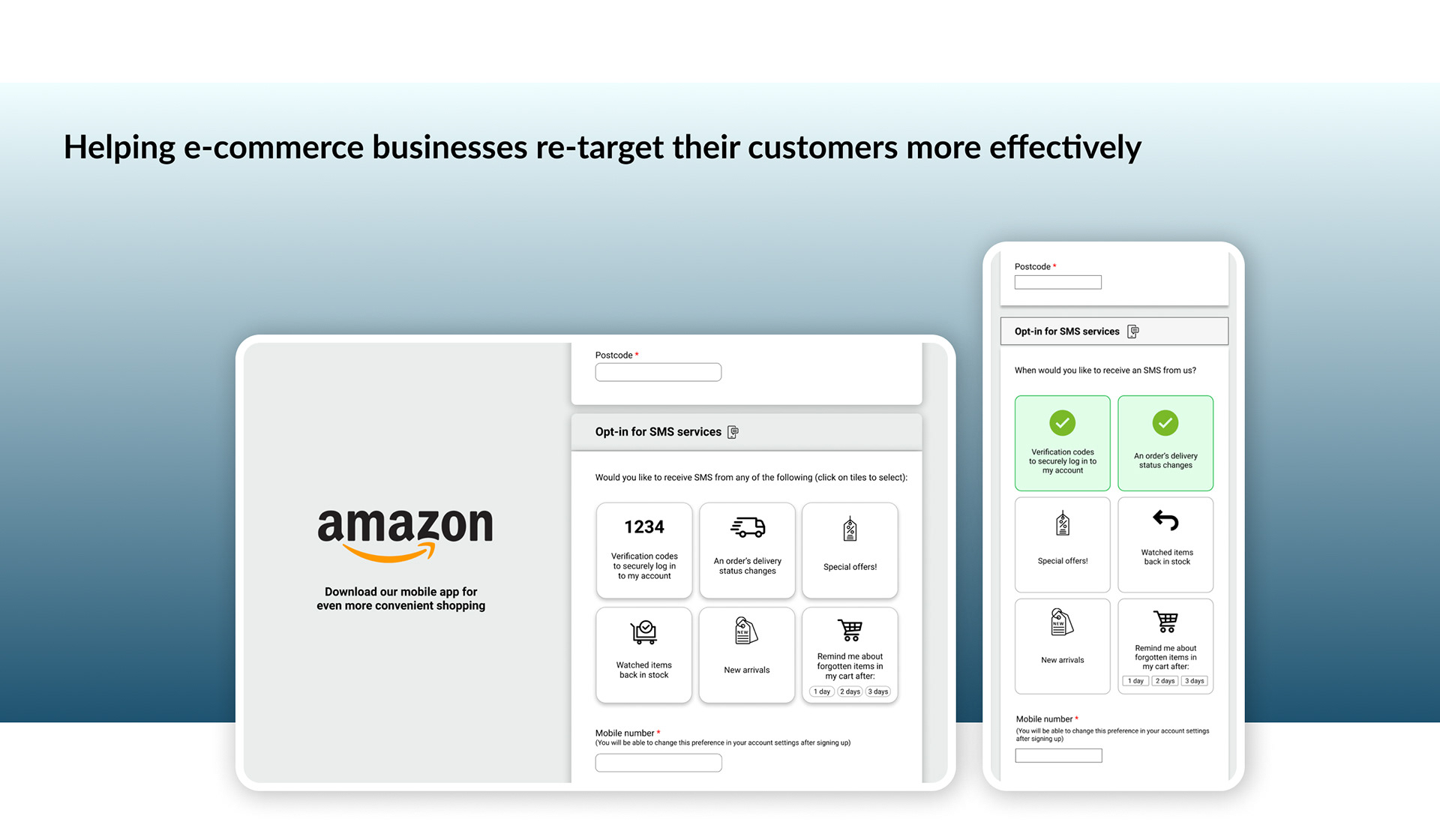 Since 2008, Burst SMS team has been working on providing businesses SMS services for communicating with their customers. A large number of online shopper was reported dropping out of the checkout process before completing the purchase. This particular behaviour can affect online companies in different ways. There is a big opportunity for e-commerce businesses to investigate further into their consumers behaviours and utilising SMS technology to re-engage and encourage shoppers to finish their transaction
"We have never talked to end consumers. We have no idea how they feel when receiving SMSs from online stores. Burst SMS wants to become trusted advisor for e-commerce businesses, not a dump pipe" 
Paul (Product manager from Burst SMS)
Define opportunities for Burst SMS to help e-commerce businesses communicate and engage their customers to achieve higher conversion rates.
Understanding online shopper's attitude toward receiving SMSs sent from brands and stores. Identifying existing pain points and help create a better experience with SMS services.
The project's main focus was to gain qualitative and quantitative research information in online shoppers' attitude and behaviour toward SMSs. The findings and insights then led to: 
Validating effective
SMS constructs
(e-commerce specific); and
Discovery of an opportunity for an implementation
"Preference for SMS services"
which is incoporated into Sign-up and Check-out flows of e-commerce sites. This additional section is simple yet can be impactful in term of
increasing transparency, putting the power back to consumer's hand as well as building greater trust and relationship between consumers and brands
. 
My Role
I was involved collaboratively in Research phase and lead the Design phase (prototyping, testing & iterating)
Methods
Interview / Survey / Affinity mapping
Journey Mapping / Behavioural Testing / A/B Testing/ Prototyping
Duration
2.5 weeks
Project partners
Cain Hayward - UX designer
Understanding online shopping behaviours and forms of communication between online stores and their customers
USER INTERVIEW SURROUNDING 2 MAIN QUESTIONS:
(16 participants of 11 full-time workers and 5 students aged 21-45, all reside in Australia, have a mobile phone and have done online shopping)
​
1. Have they been reached by online stores? If so, what methods of communication have the stores used to reach them? (eg. emails, SMSs, phone calls etc)
2. How they felt when they had been reached.
ONLINE SHOPPING BEHAVIOURS key findings:
1. Majority of participants choose to do shopping online due to convenience (home delivery) and efficiency (easy to find the best deal)
2. Some use a computer to shop online, some were more gravitated to shop from mobile apps
​3. There is an array of reasons for shopping cart abandonment
METHODS OF COMMUNICATION key findings:
1. Majority of participants mentioned they have been reached by email and prefer to be reached by email
2. Participants have received SMSs regarding to special offers, new product launches, delivery status, appointment reminders, security alerts etc
3. Some participants mentioned they don't recall when they opted in for receiving SMSs from brands and stores
4. Majority doesn't opt out from SMS service
Conclusion from key findings: SMSs are perceived as disruptive which are more well-received for "important" communication. It is understood that shopping and completing checkout process isn't always considered important or urgent task. 
USER SURVEY 
validate key findings from user interviews and identify patterns surrounding these main questions:
​
1) What online store can send you SMSs?
--->
70%
agreed to "Online stores which they visited often and have an account with"
2) How often do you want to receive SMSs?
--->

70%
agreed to "Just once for same offer"
3) When do you want to receive SMSs?
---> 26.1% "
Next day, around same time as previous day when I was visiting online store"
21.7%
"Next day, during daytime"
 6.5%
"Within 24hr, doesn't matter if it's daytime or nighttime"
Additional insight:

43.5%
 abandoned their shopping cart all the time
45.8%
used a
computer
as a primary device to do online shopping
45.7%
used
mobile devices
 as a primary device
Conclusion from the insight: an abundant amount of evidence suggests majority has experienced being contacted by online stores via SMSs. It is understood that most people concern about their privacy as an online shopper. Gaining trust with online stores is just as important as in a brick-and-mortar one.
Validated hypothesis: People love a personalised message
 A hypothesis was made that people response more positively to a personalised message. Research into common message content suggests that there are typical elements often put together in an SMS sent from e-commerce business:

A generic SMS construct and a personalised one (which addresses recipient name) were used during behavioural/ usability test to validate the hypothesis. In order to have comparative test results, 5 chosen participants were asked to use amazon.com.au to browse and shop items that they want to purchase next. 
BEHAVIOURAL TEST SCENARIO
​​​​​​​
"You are thinking of buying your next favourite items online. How would you use amazon.com.au to browse and add that item to cart?"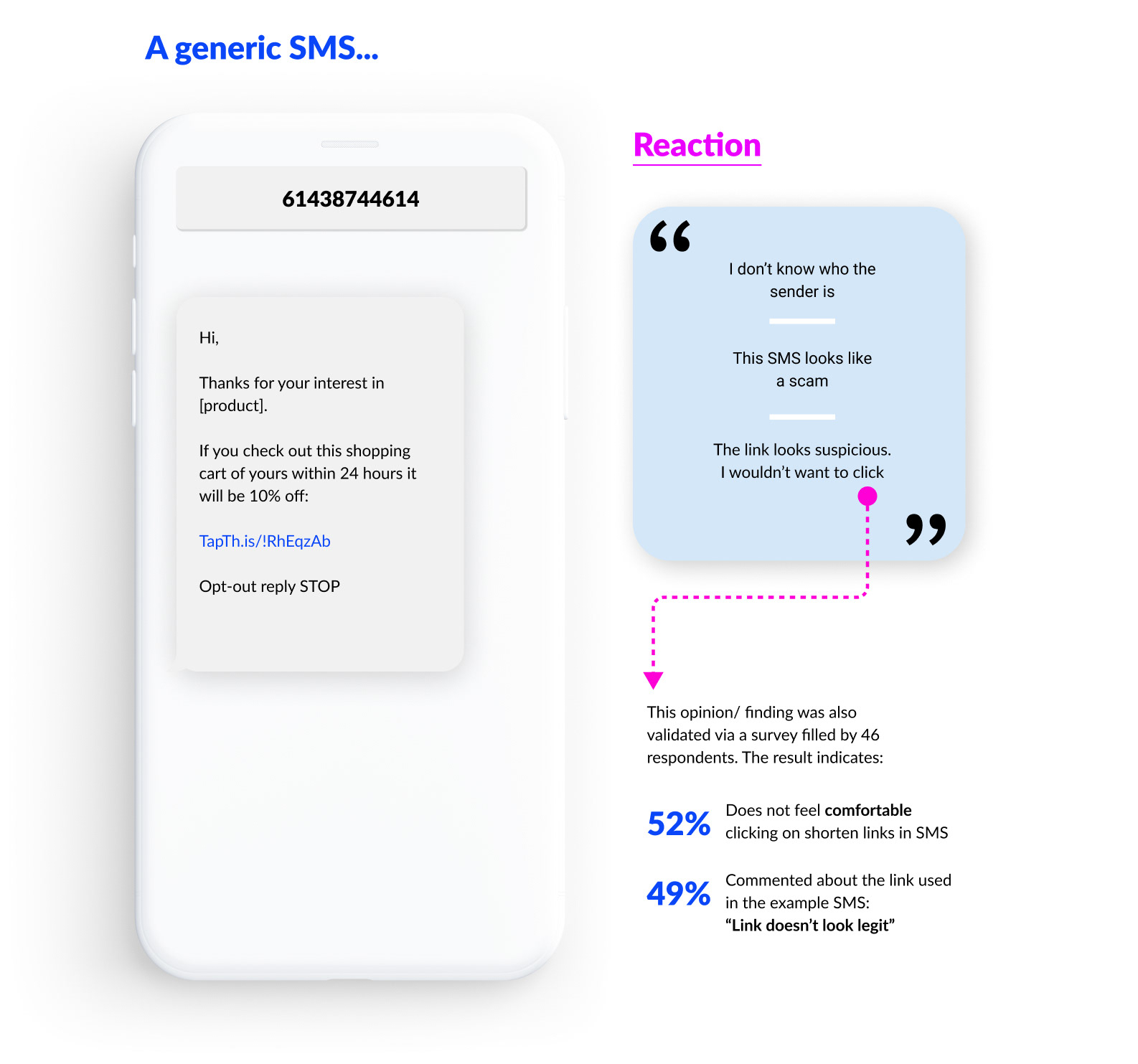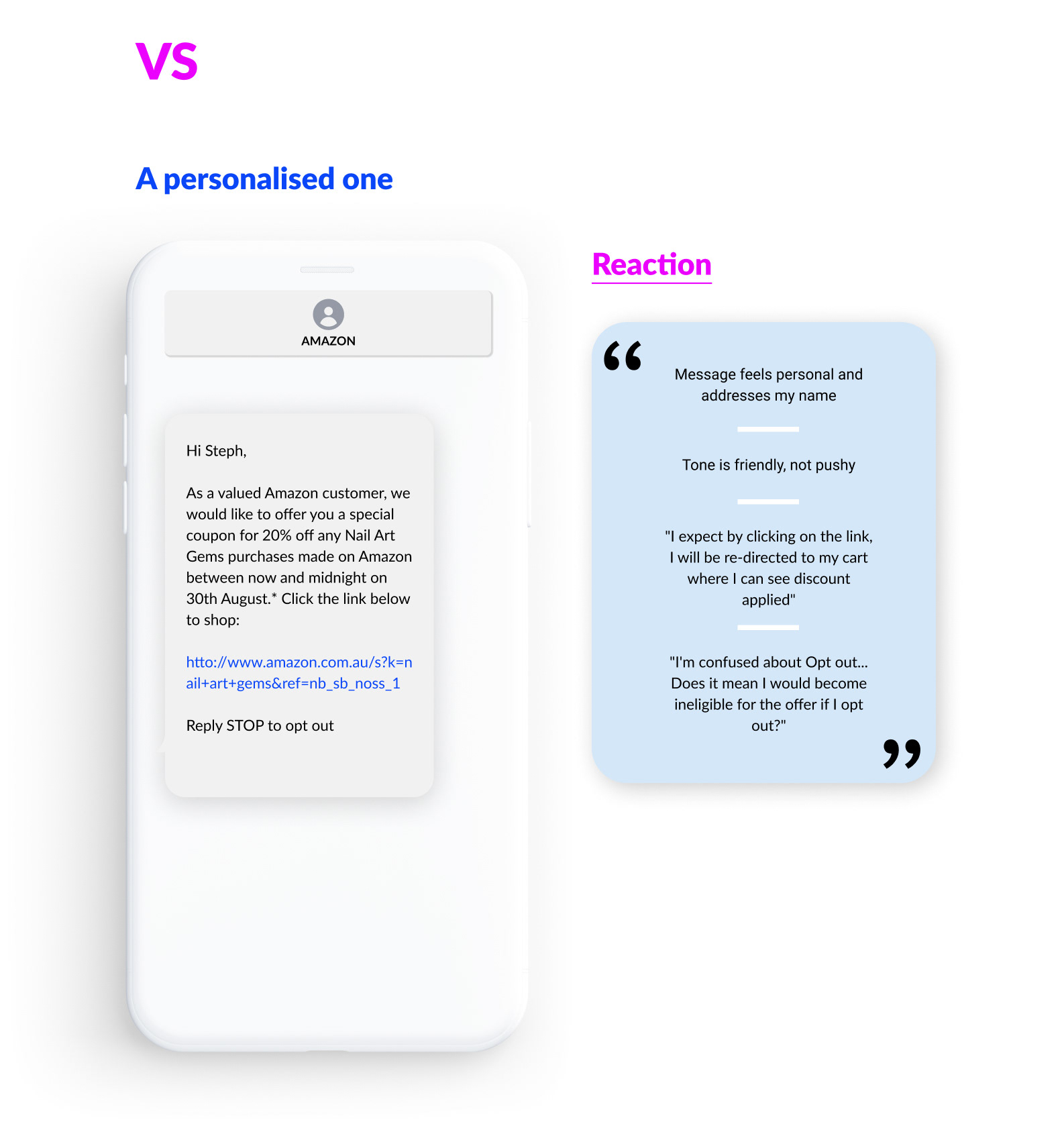 Conclusion from findings: a personalised message with appropriate tone/language is crucial to an SMS construct. Recipients intepret same wording differently therefore it is important to test to determine whether or not the SMS content is clear and effectively conveys the message.
​​​​​​​

PERSONAS & THEIR JOURNEY MAPS
From the research findings two primary personas were identified: John and Danielle. These two personas represent the 2 key patterns that emerged: those who shop using a computer as a primary device and those who use a mobile devices. 
JOHN - THE SAVVY TECH CONSUMER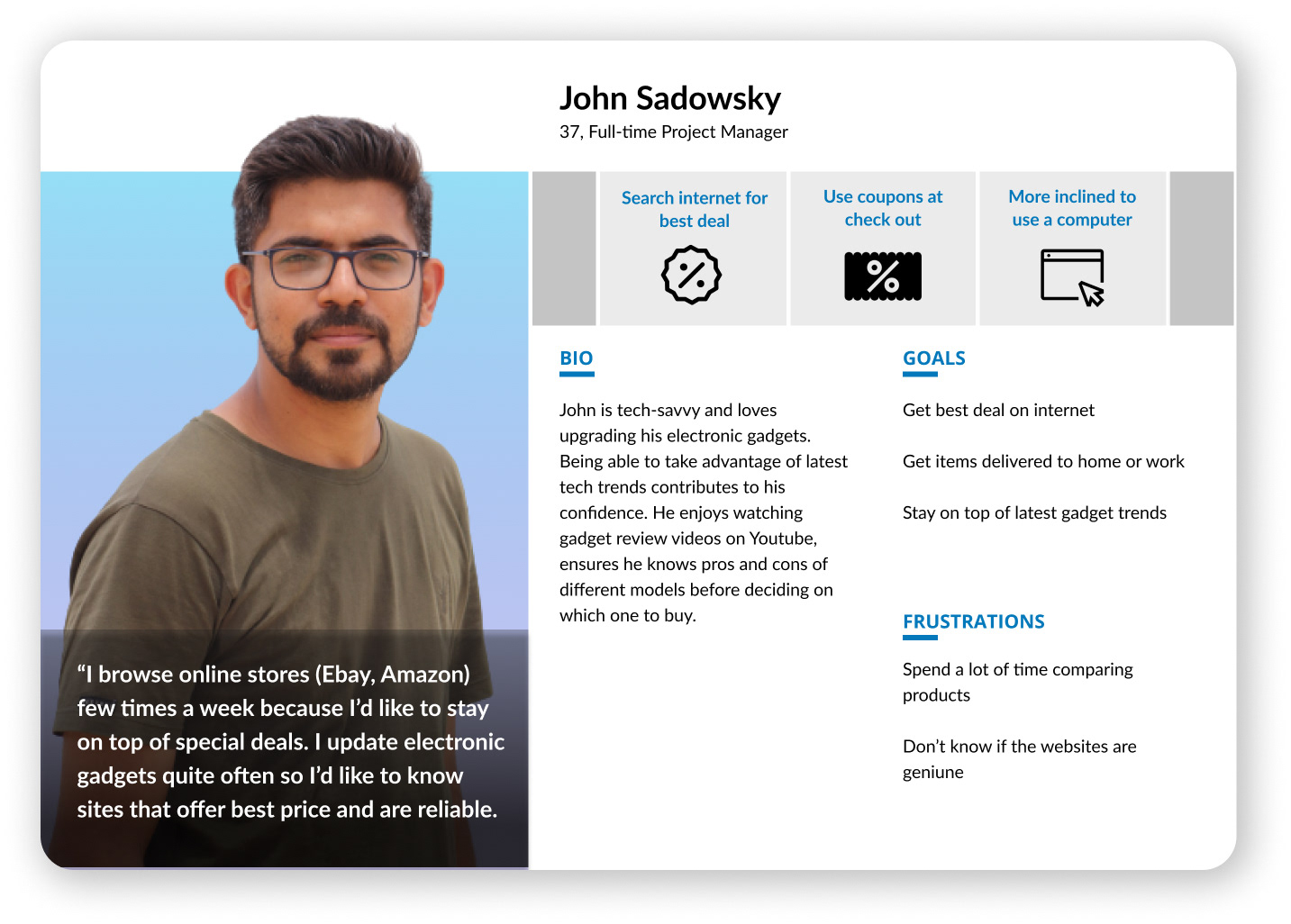 VISUALISING JOHN'S ONLINE SHOPPING JOURNEY
John was looking to buy a bluetooth headphone on amazon.com.au. He's got a shortlist for the one that he wants to get. He's planning to check on their pricing and make a purchase decision base on reviews and recommendation from the online community.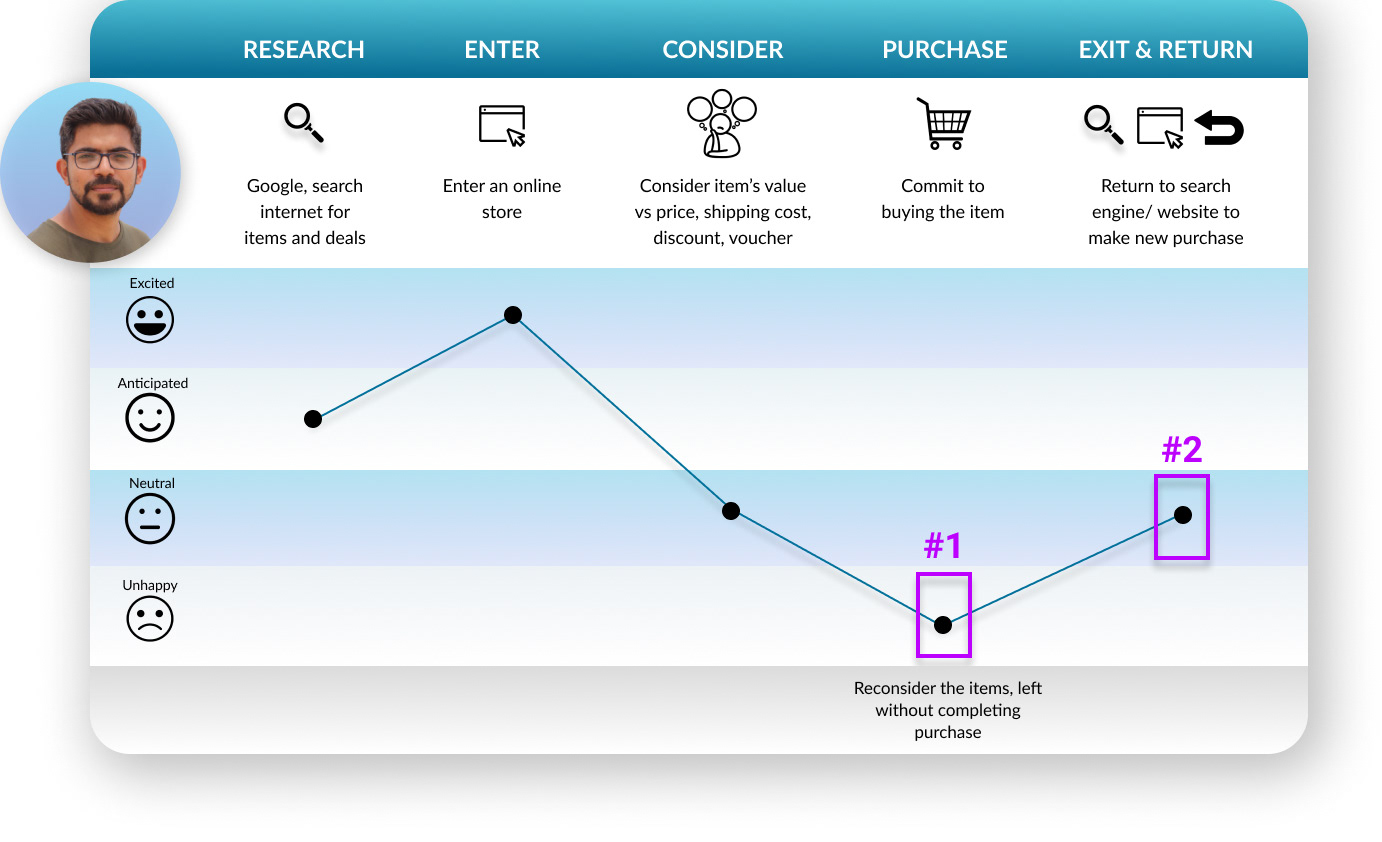 Send SMS after 24hr mark with
personalised discount code SMSJOHNSADOWSKY20
(unique code which can be used to measure success rate of SMS campaign/ ROI)​​​​​​​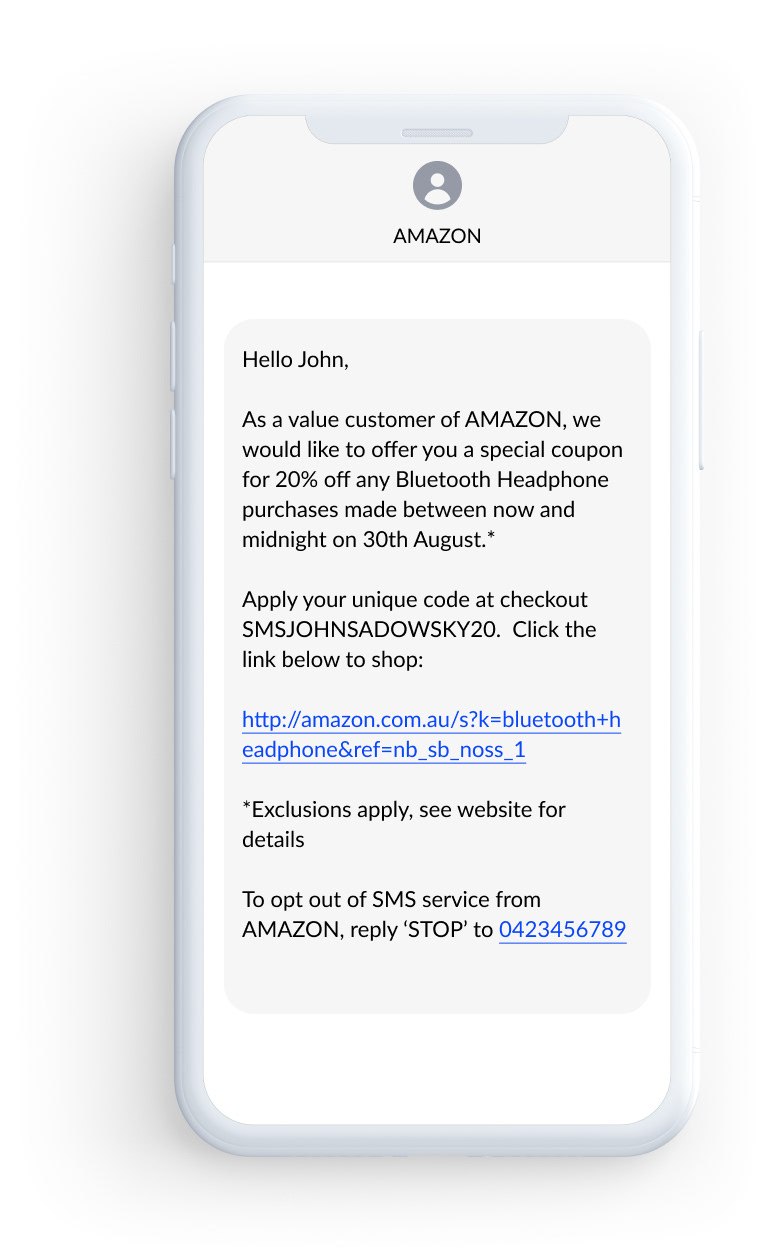 Send SMS as a
final reminer
 about the offer. Take care in using appropriate tone that creates a sense of urgency but not pushy.
DANIELLE - THE FASHION LOVER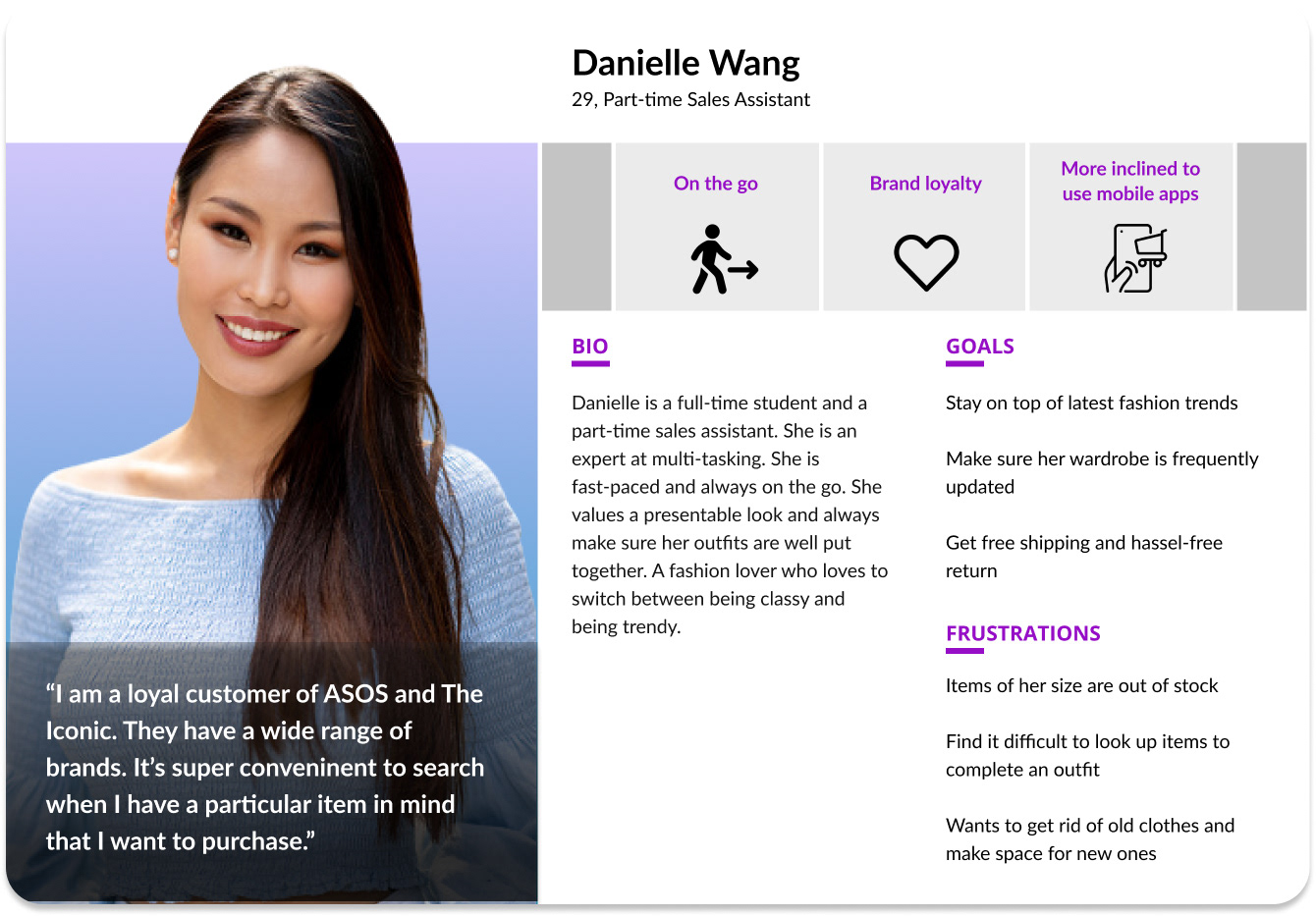 VISUALISING DANIELLE'S SHOPPING JOURNEY
Danielle has recently added some accessories in her cart from The Iconic. She wanted to get them ASAP but is held back by shipping cost. Danielle decides to sleep on it for some time hoping there will be more items that she can add later to get free shipping.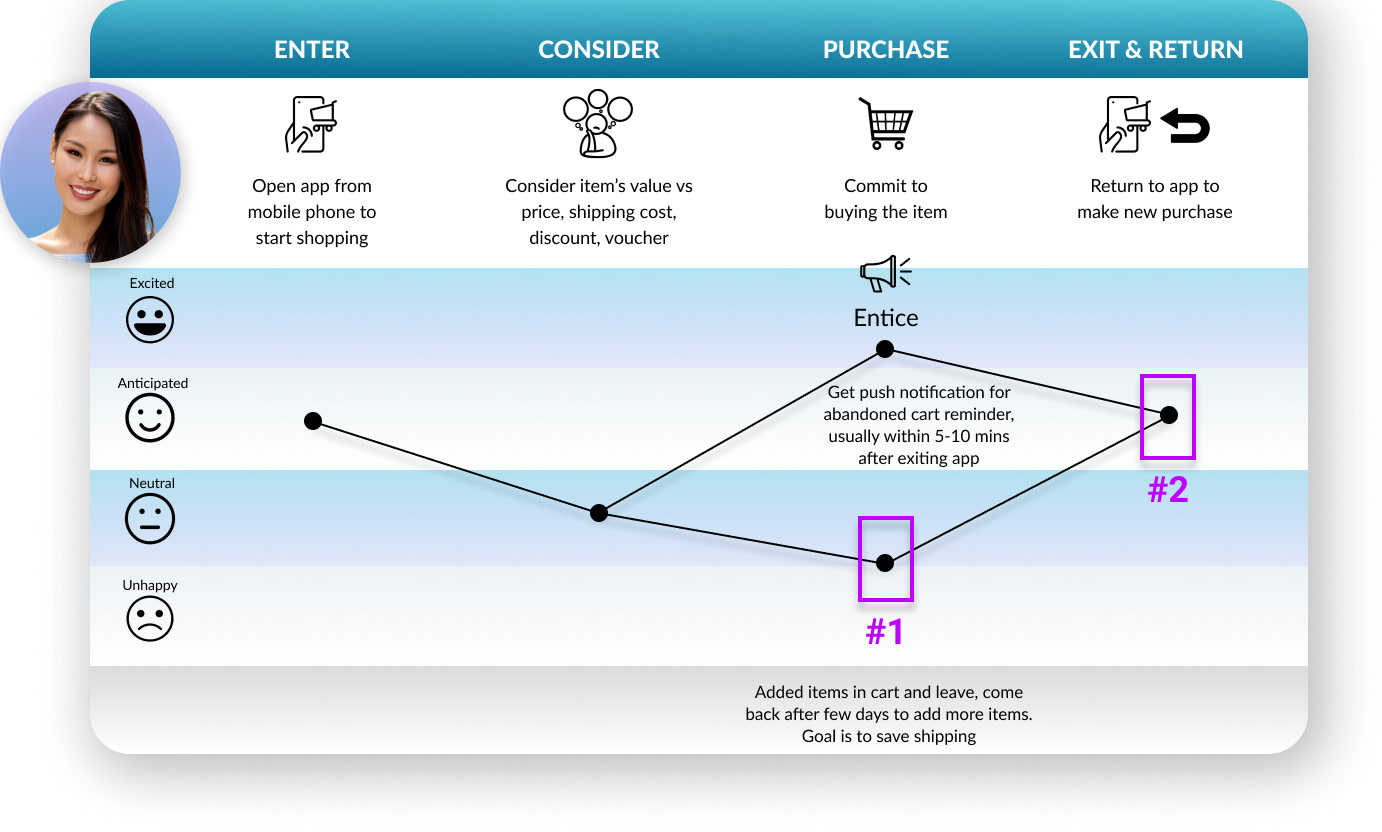 Send SMS after 3 days with
unique code SMSDANIELLEWANG20 
as a final reminder (depends on inventory management system of online stores)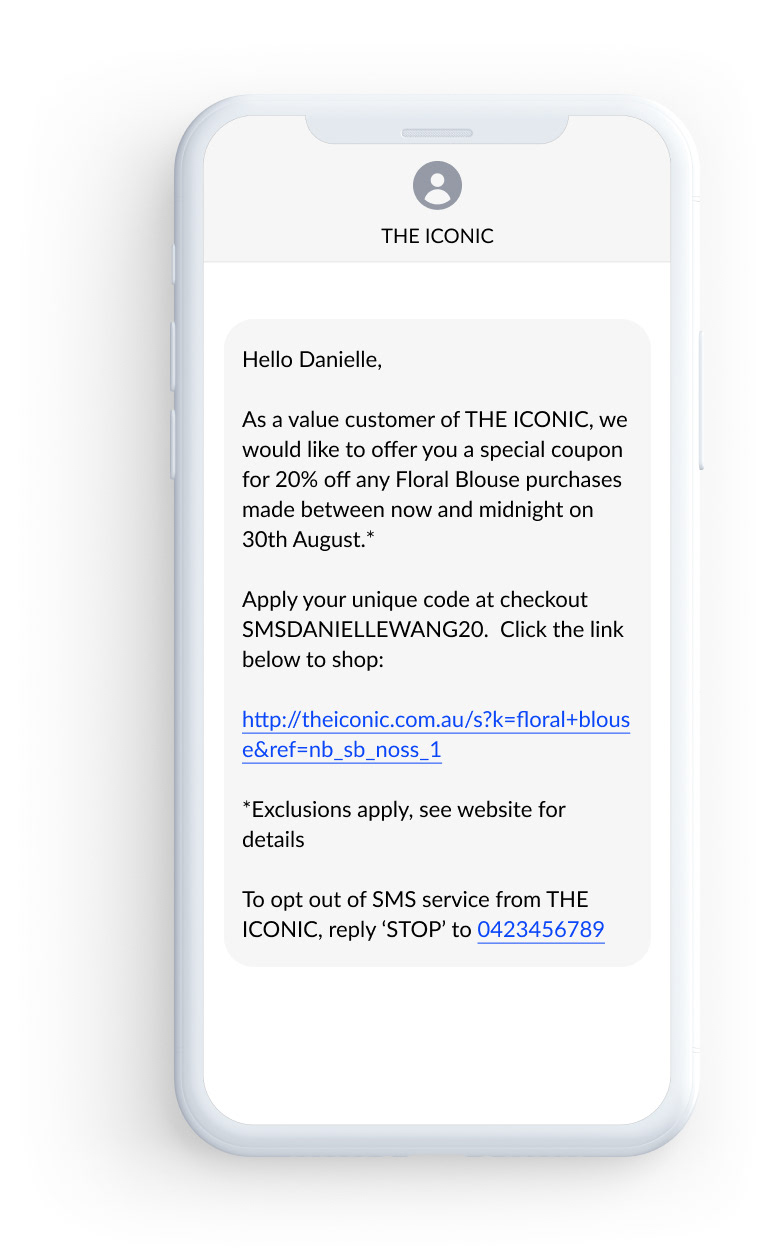 If the customer was converted using discount code provided in SMS, send
follow-up SMS
with new offers after 3-7 days (depends on type of business)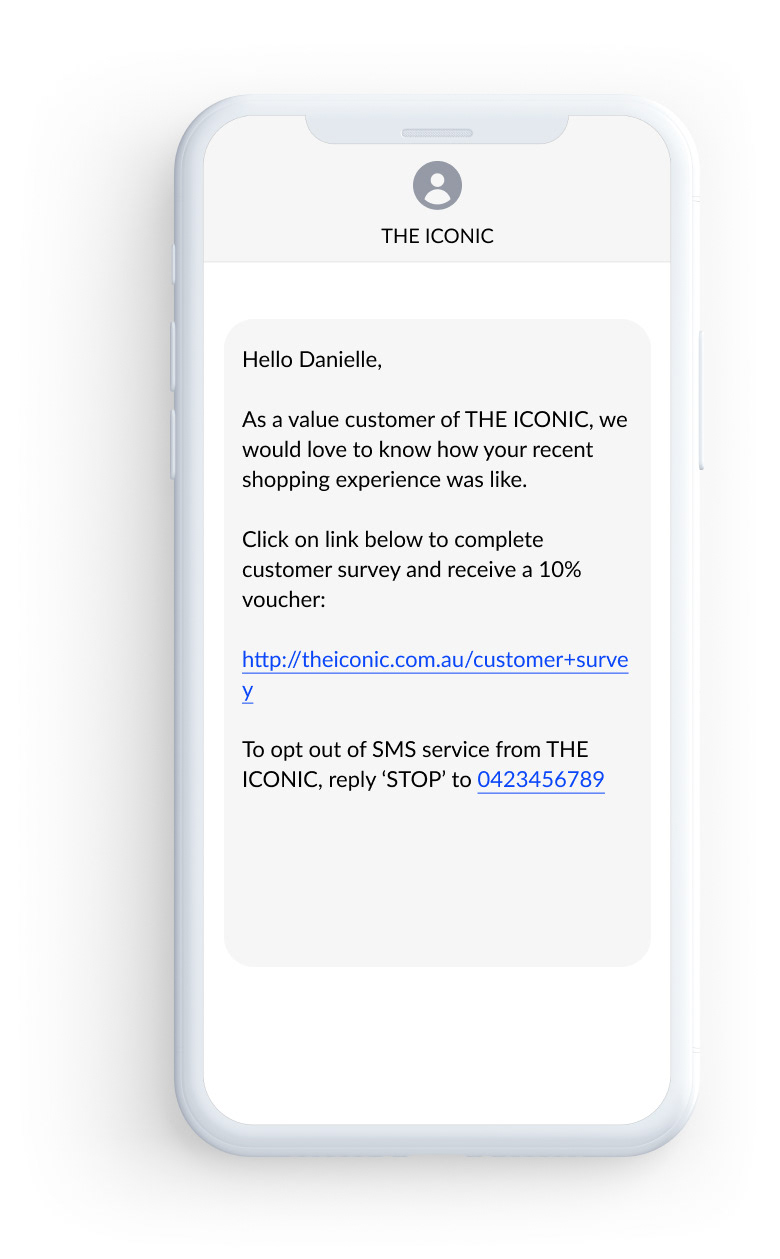 From the research, a common theme was dicovered that many don't recall when they opted in for SMS services. In order to make the process more prominent and transparent, an implementation is recommended to be incorporated into 2 key processes: Sign up (create an account) and Check-out (transaction). Not only this will put the power back to the consumer's hand but also give e-commerce businesses an opportunity to effectively re-target their customers, ensure that no SMS is wasted. 
EASIEST WAY FOR ONLINE STORES TO CAPTURE CONSUMERS' MOBILE NUMBER IS AT CHECK-OUT
In order to re-target online consumers using SMSs, mobile number is vital piece of information. Online stores have been using services like Zapier to track and capture information that consumers may leave on the websites. Current process shows lack transparency in regards to communicate purpose of capturing shopper's mobile number. Common complaints are online shoppers unaware of what they are locked in, and fraudulant is simply becoming ubiquitous on the internet.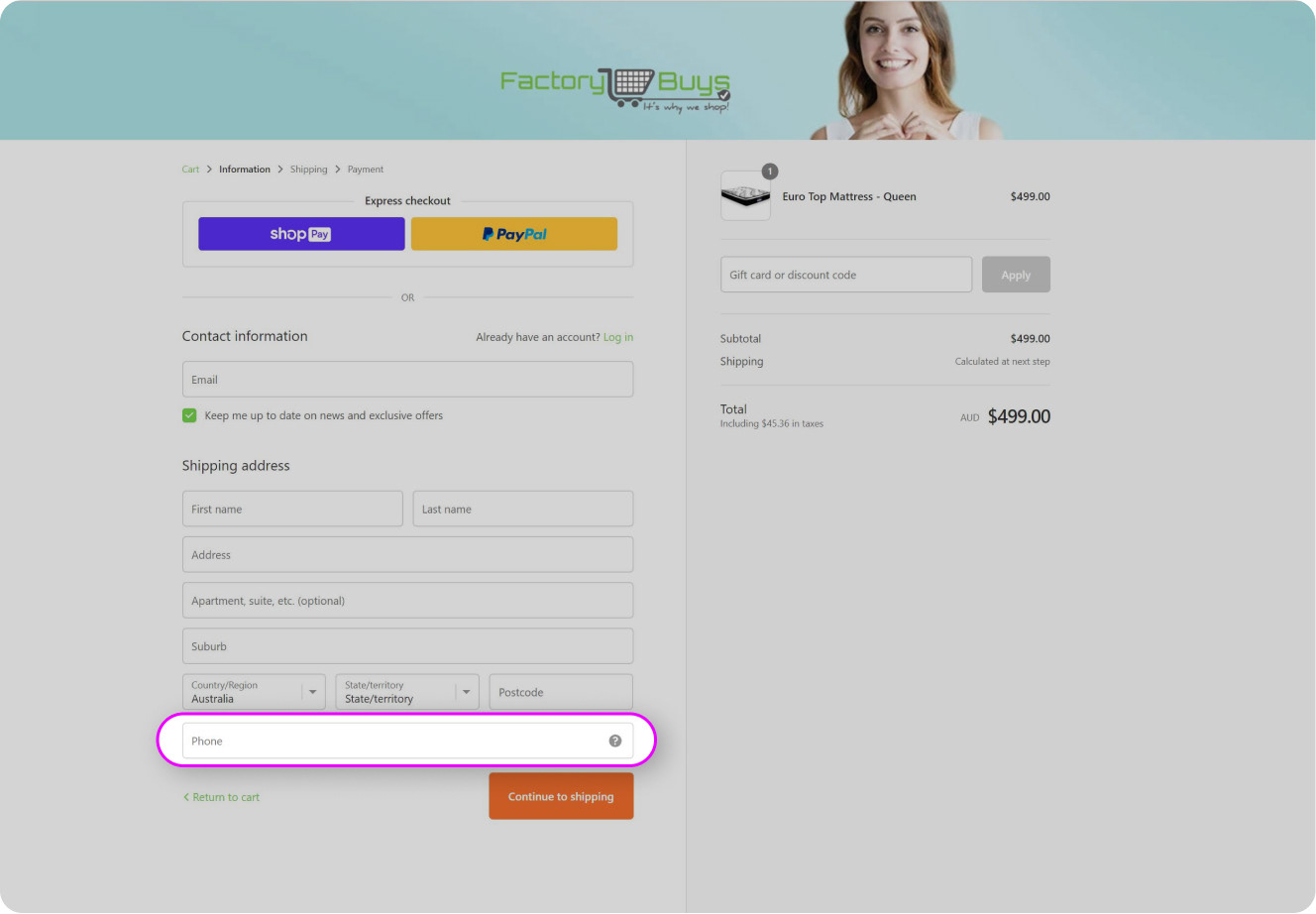 A/B PROTOTYPING
: SIGN-UP FLOW (DEKSTOP WEBSITE)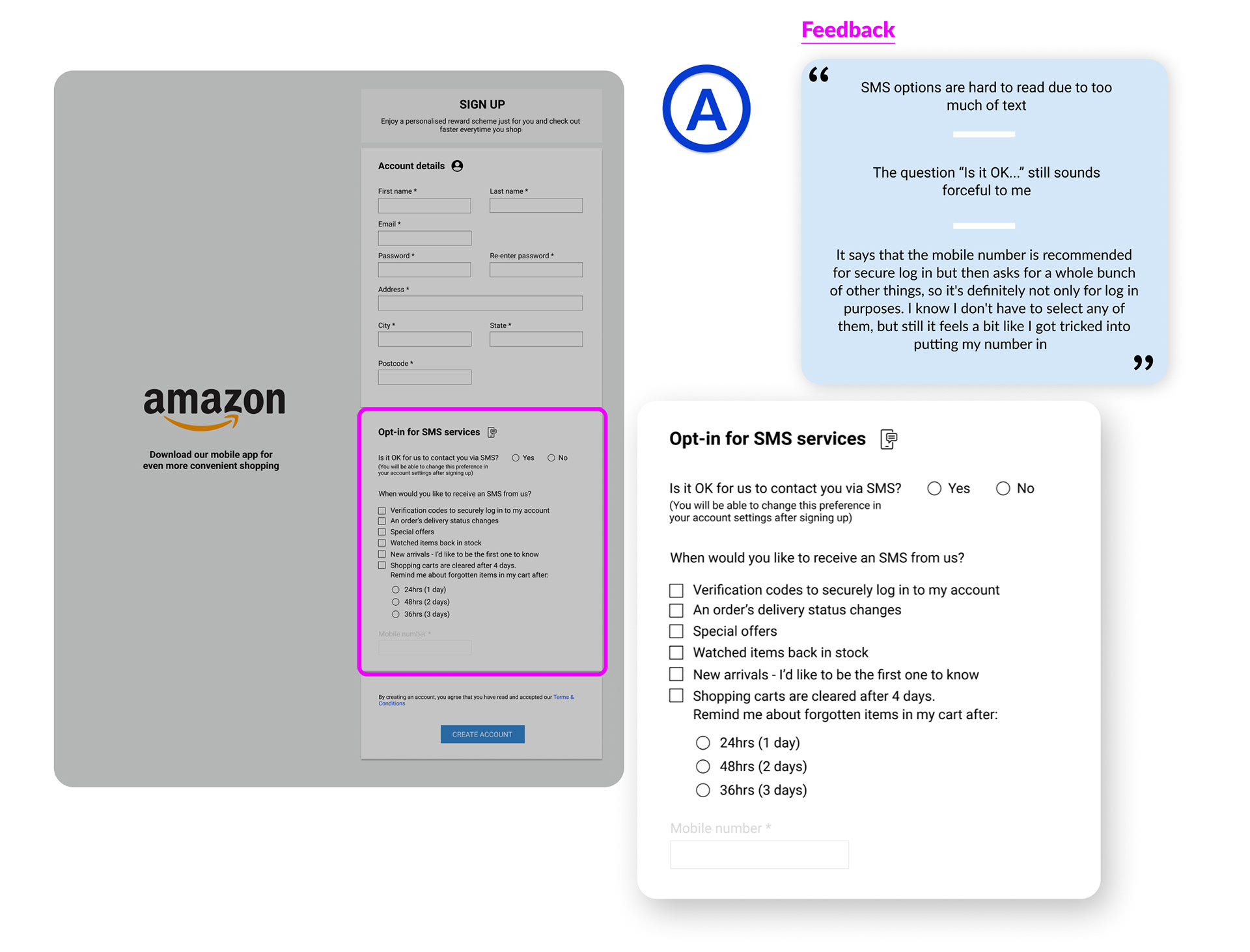 A/B PROTOTYPING
: SIGN-UP FLOW (FOR MOBILE APP)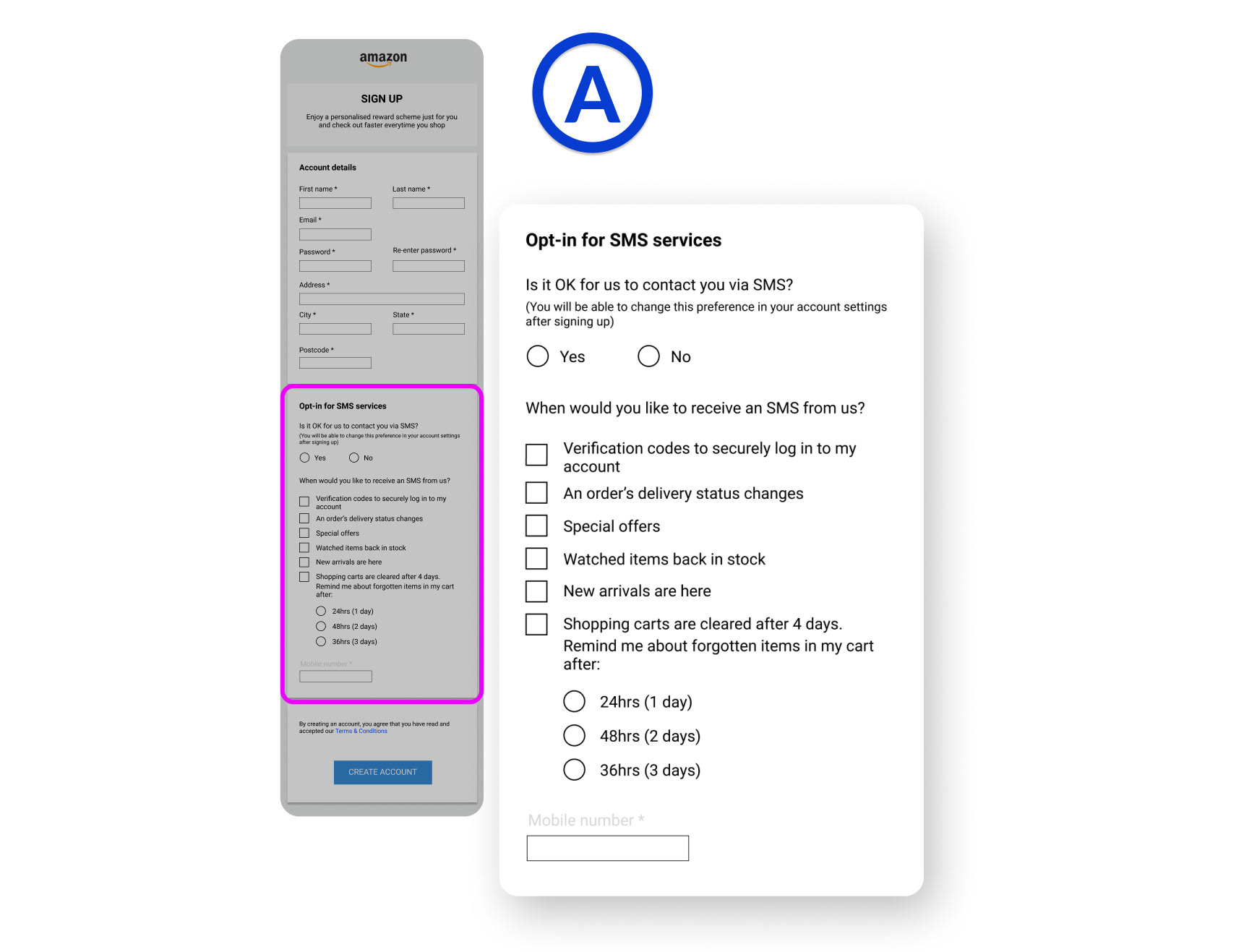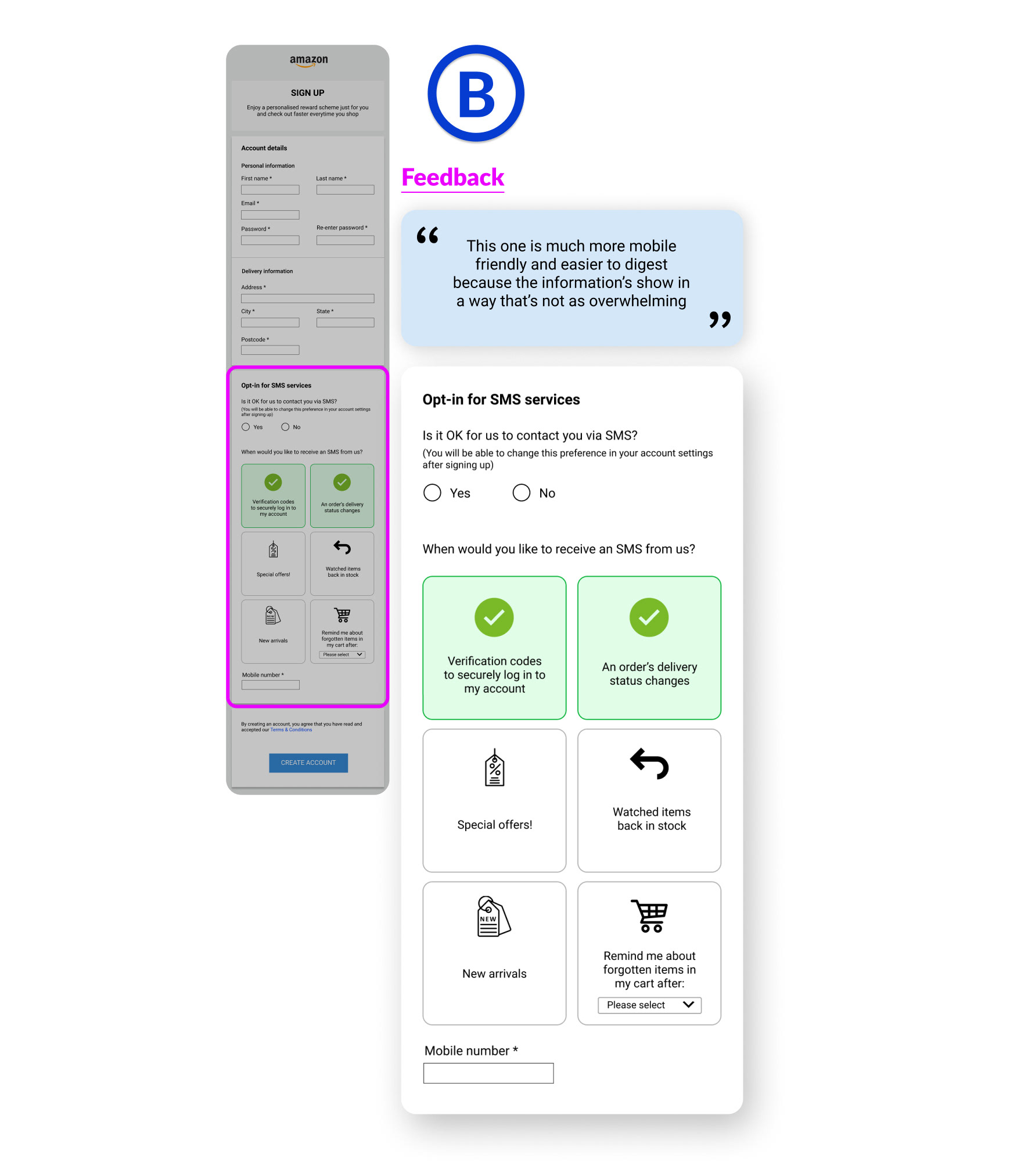 A/B PROTOTYPING
: CHECK-OUT FLOW (FOR DESKTOP WEBSITE)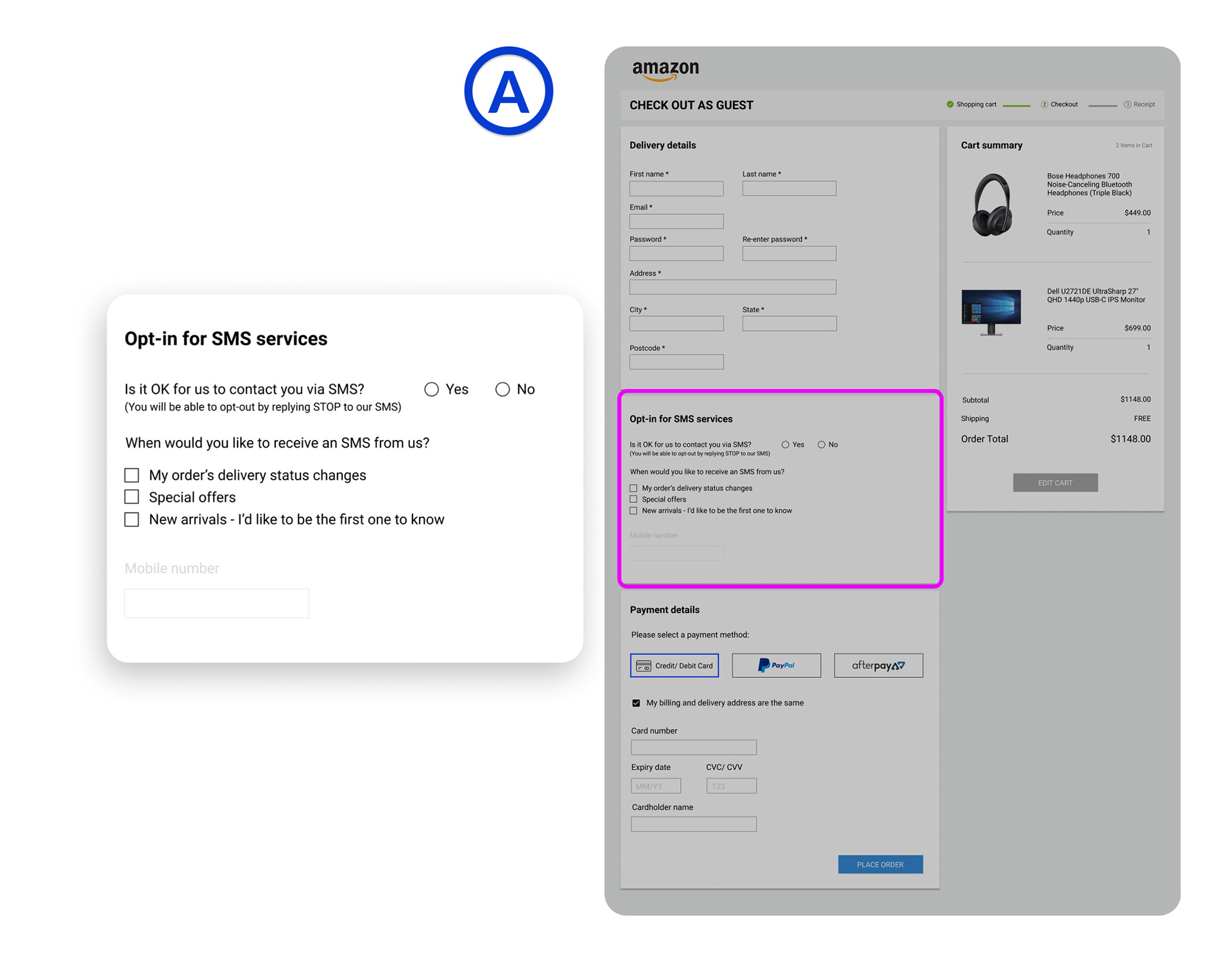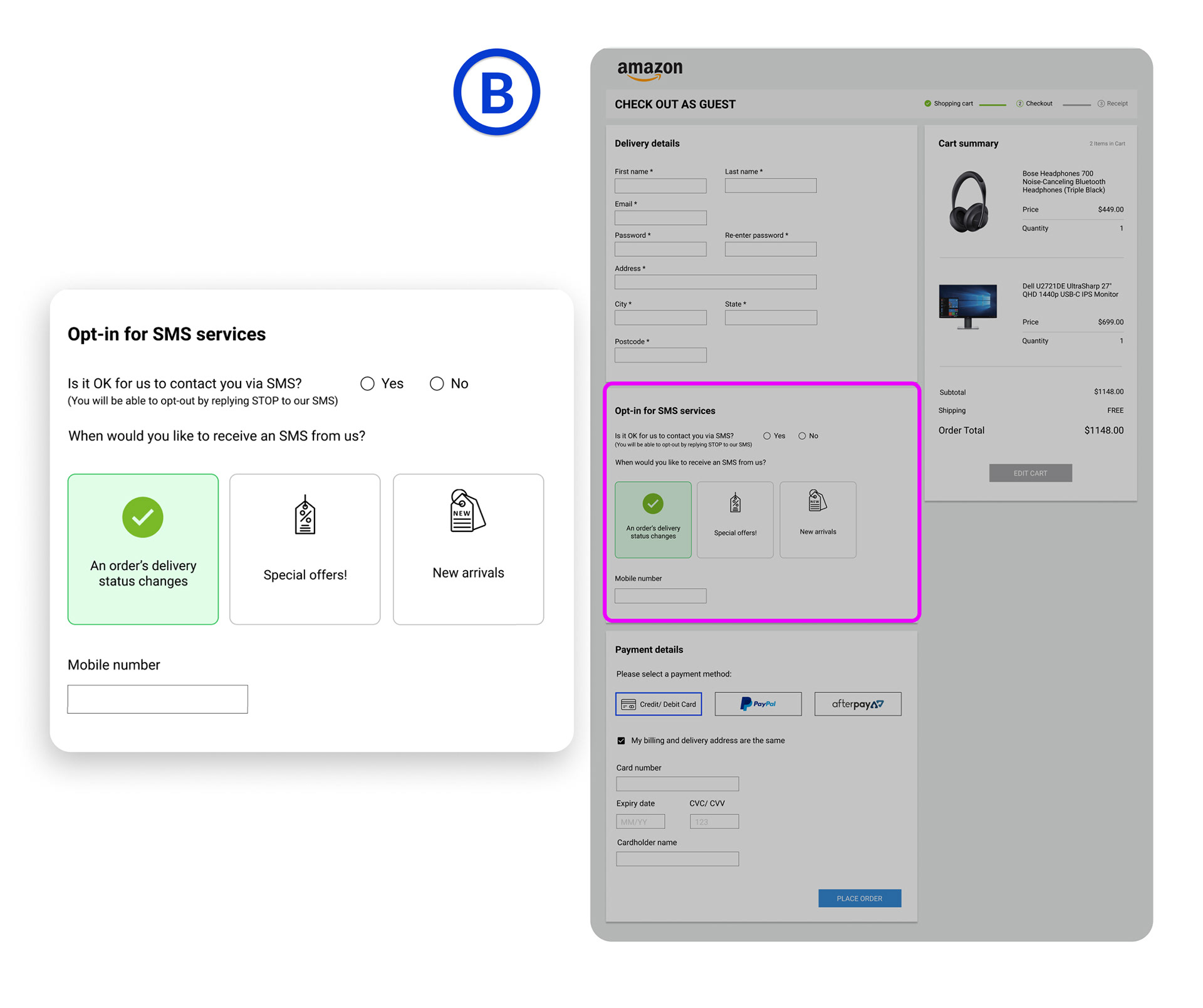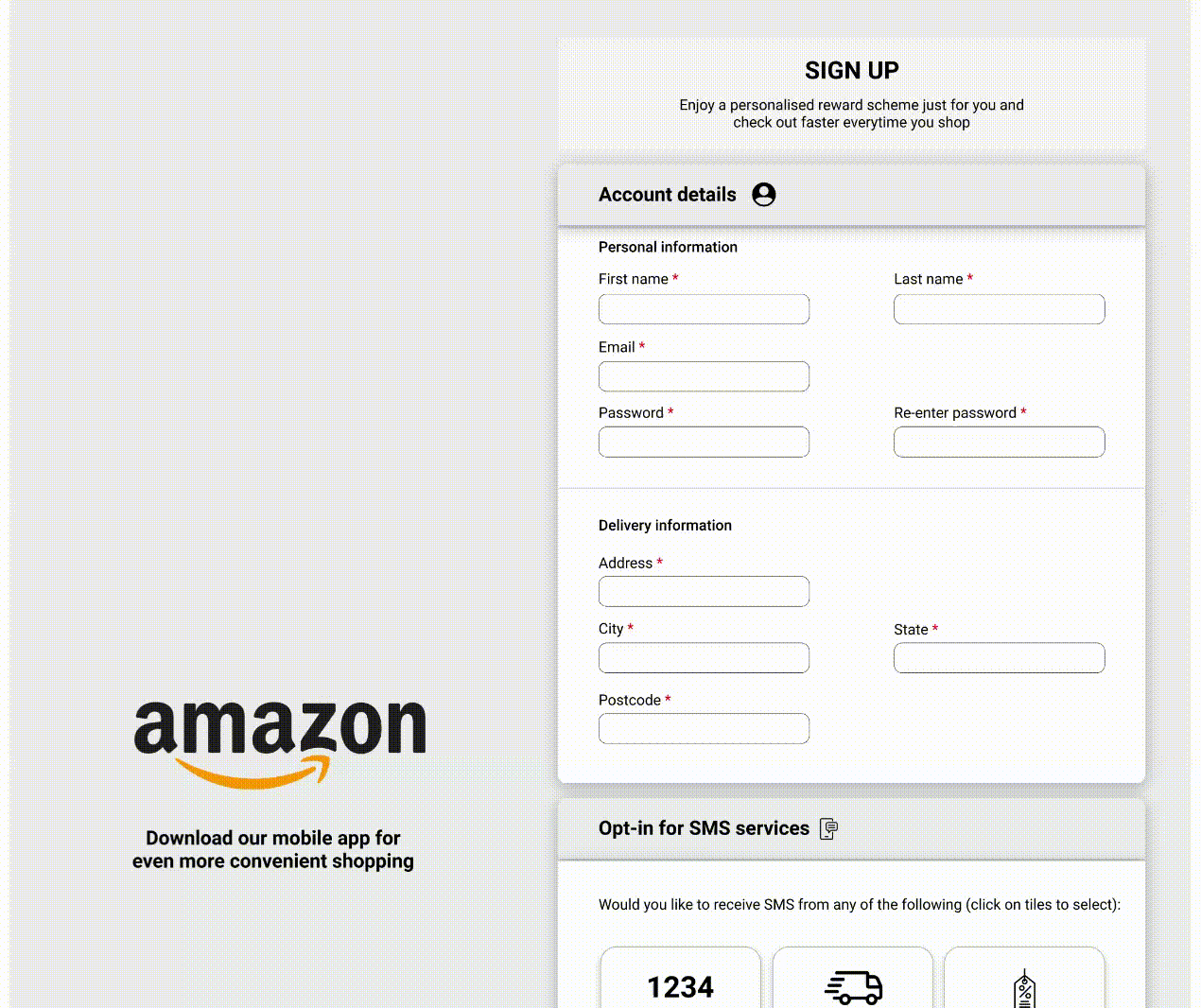 Virtual Number vs Alphanumerical Sender ID
Interview participants to gain insight into their thought when receive SMSs with an alphanumerical sender ID
More behavioural testing needs to be carried out to learn about how people may feel about receiving MMS. The hypothesis is that it may not be as effective because of the fact the image in MMS may not displayed fully in lock-screen notification.
"Mark spam" in messaging app (Android)
This has not come up during our interview as no one has mentioned that they mark spam messages, as this function may not be as prominent. More interview and survey can be carried out to investigate this behaviour, ensure that we stay up to date with consumers behaviour trends.
When given this brief, I felt very anticipated since it gave me the exact opportunity that I was looking for: a research-focused project. I dreaded research before, however over the years working as a designer, I realised designing without research informing means I design only for myself. I was able to spend majority of project time talking to interviewees, testing and evaluating. It is better to not build anything and help company save money than investing time and effort into building something that isn't meaningful. In this project I also learned a valuable lesson about collaborating with others. It is important to keep the communication clear especially via text so that my messages can get interpreted correctly.