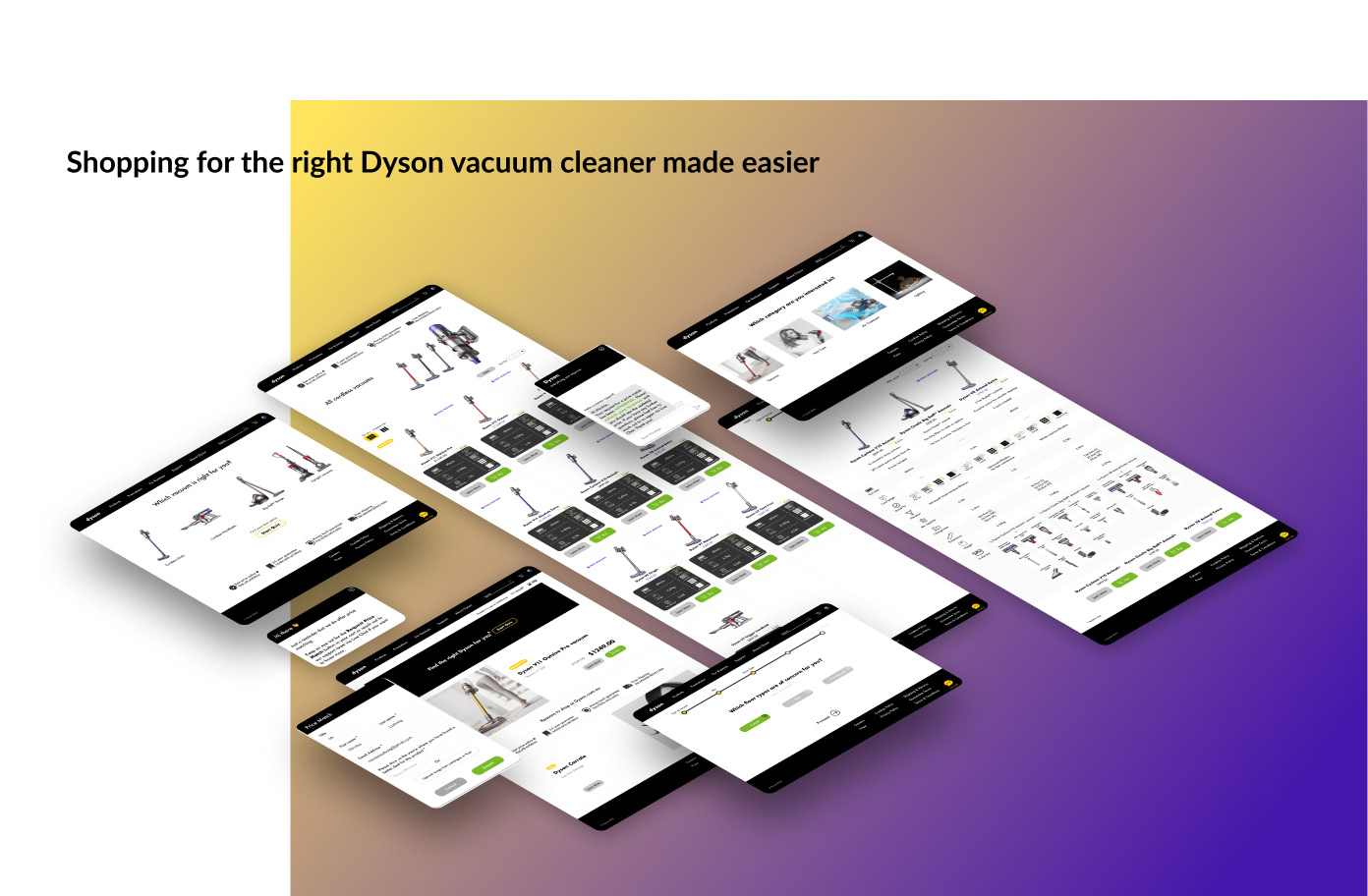 "I think dyson.com.au is where I can go to browse Dyson's product range and read official information, 

not so much of a shopping destination." 
Myles, interviewee​
1) 
Initial chats with those who own Dyson products suggests that they have little to no experience
interacting
with dyson.com.au during their shopping journey.
2) 
Many users found it difficult to 
navigate
 around the website
3) 
Many agreed that Dyson's price point is high, which affects their buying decisions. They were also unaware of Best Price Policy.
Improve shopping experience on dyson.com.au, retain customer engagement and ultimately increase the website's conversion rate.
I was heavily involved in the research phase of the design process, focusing on identifying pain points via usability testing, user interviewing and survey methods. The findings led to restructuring of
information architect
of the website,
improving
navigation and visibility
. The new design's success rate was measured based on lower level of frustration and increased period of time spent on the site.
My Role
I was involved collaboratively in all phases and activities including research, synthesis, ideation, prototyping & testing
Methods
Interview / Survey / Affinity mapping
Journey Mapping / Usability testing/  Card sorting
Mid-fi & Hi-fi prototyping
Duration
2.5 weeks
Project partners
Elaine Arabit - UX designer
Hao Liang - UX designer
Understanding shoppers' behaviour when purchasing household appliances (specificially vacuum cleaners)
USABILITY TEST
: What shoppers think when interacting with dyson.com.au 
(9 participants)
Usability test was carried out on dyson.com.au to gain an insight into how people interact with the website. The purpose to to identify potential roadblocks as well as understanding what has done well and what frustrates shopper during their shopping journey.
"You have just moved into a 2 bedroom apartment with your partner and a dog. You want to buy a vacuum cleaner that is can pickup pet's hair effectively. How would you browse dyson.com.au to find and purchase the most suitable model for your needs at the best possible deal?"
INITIAL USABILITY PROBLEMS
Many have found it confusing to navigate around the website due to oversized images and text that causes excessive scrolling. Plus there is no indication of what country the website is showing.
Participants had difficulty determining the vacuum model that suits their purpose best.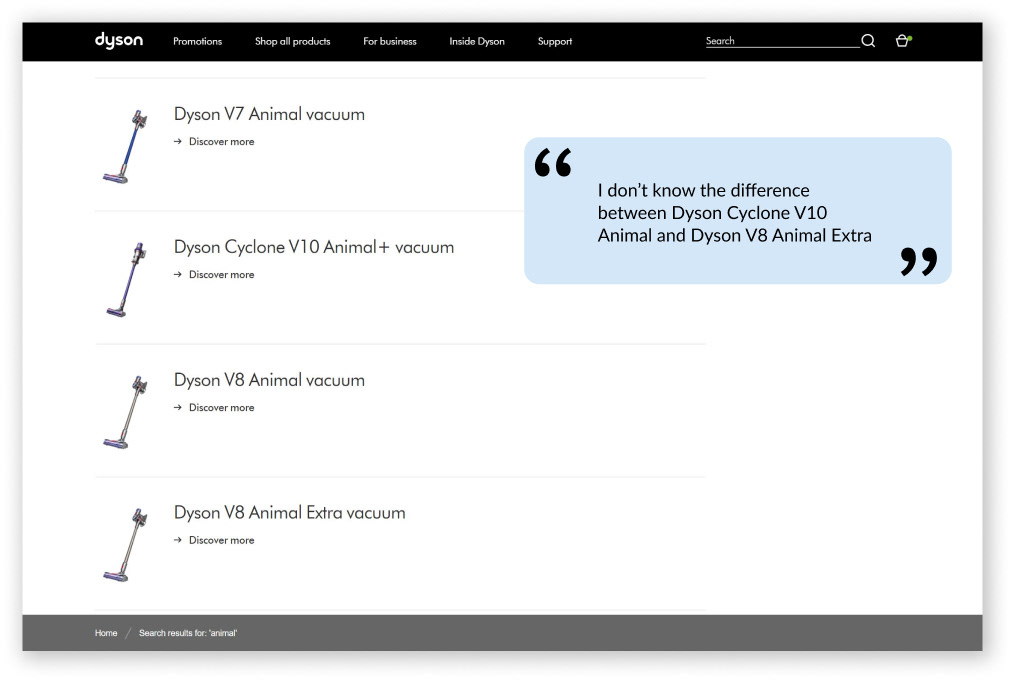 Participants had difficulty viewing each product's specs and see the difference between models.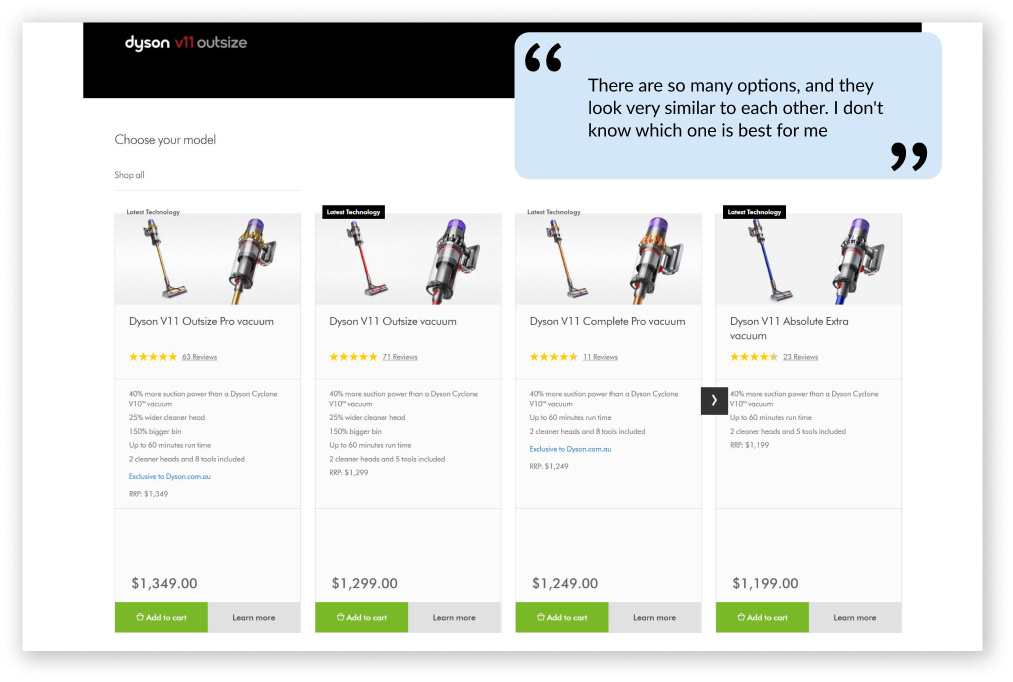 "Best Price Policy" is unnoticeable
Dyson commits to offer best deal in the market however it is clear that this information isn't communicated well to shoppers.
USER INTERVIEW COMMON THEME: 
"Dyson is expensive" 
(11 participants, 6 Dyson owners and 5 non-Dyson owners)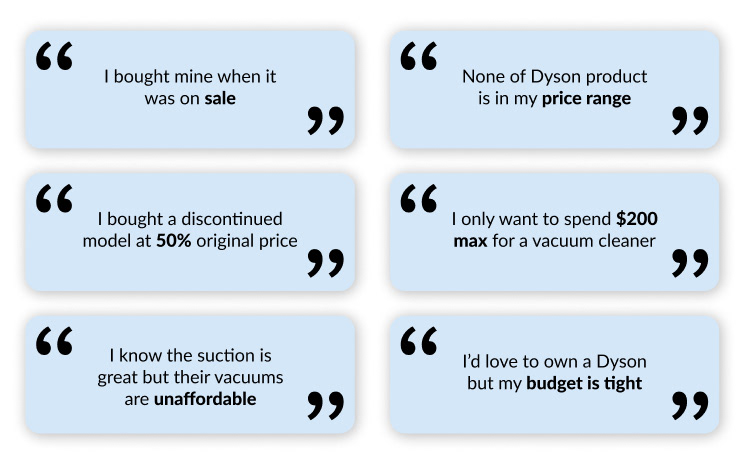 1.
Participants expressed their perception of Dyson as brand of
quality and high price tag
2.
Non of the Dyson-owners bought their products from the website, most of them were purchased at
discounted price from a third-party retailer
3.
Non-Dyson owners express their
desire
to own Dyson products in the future because of the performance and reputation
Conclusion from the findings: focus on promoting best deal/ special offers from Dyson. Make the information more prominent and attractive to potential customers.
1) 
Price point is a major factor when it comes to buying Dyson products.
92%
of respondents said they would be happy to purchase from a brand's official website if they offered
price match
service.
2) 

56%
of respondents use a computer as a primary device for online shopping activity
3) 

52% owns a Dyson vacuum cleaner.
Conclusion from the insights:

focus on improving the desktop website and target at the vacuum cleaner range (this is due to the popularity of the vacuum products and to narrow down the scope to fit the project time frame)
DYSON ALREADY HAS A PRICE MATCH FEATURE
. However it is currently not made prominent.
The process of getting an item price matched is clunky and inefficient (see live chat conversation below). There is no clear information about what is involved in this process and what a shopper can expect to happen.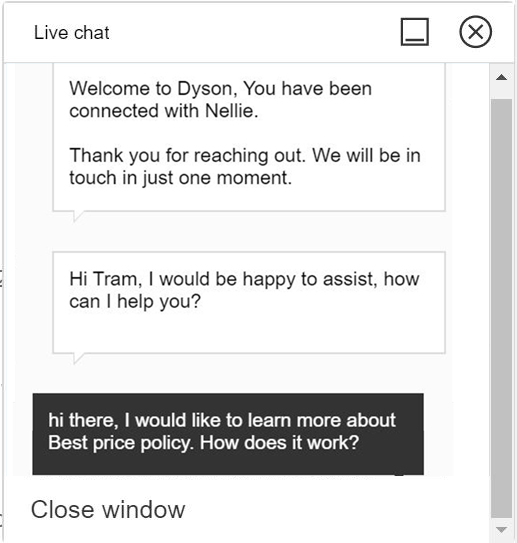 MEET NICOLAS
. He's looking to buy a Dyson vacuum cleaner and is hoping to find the best deal in the market.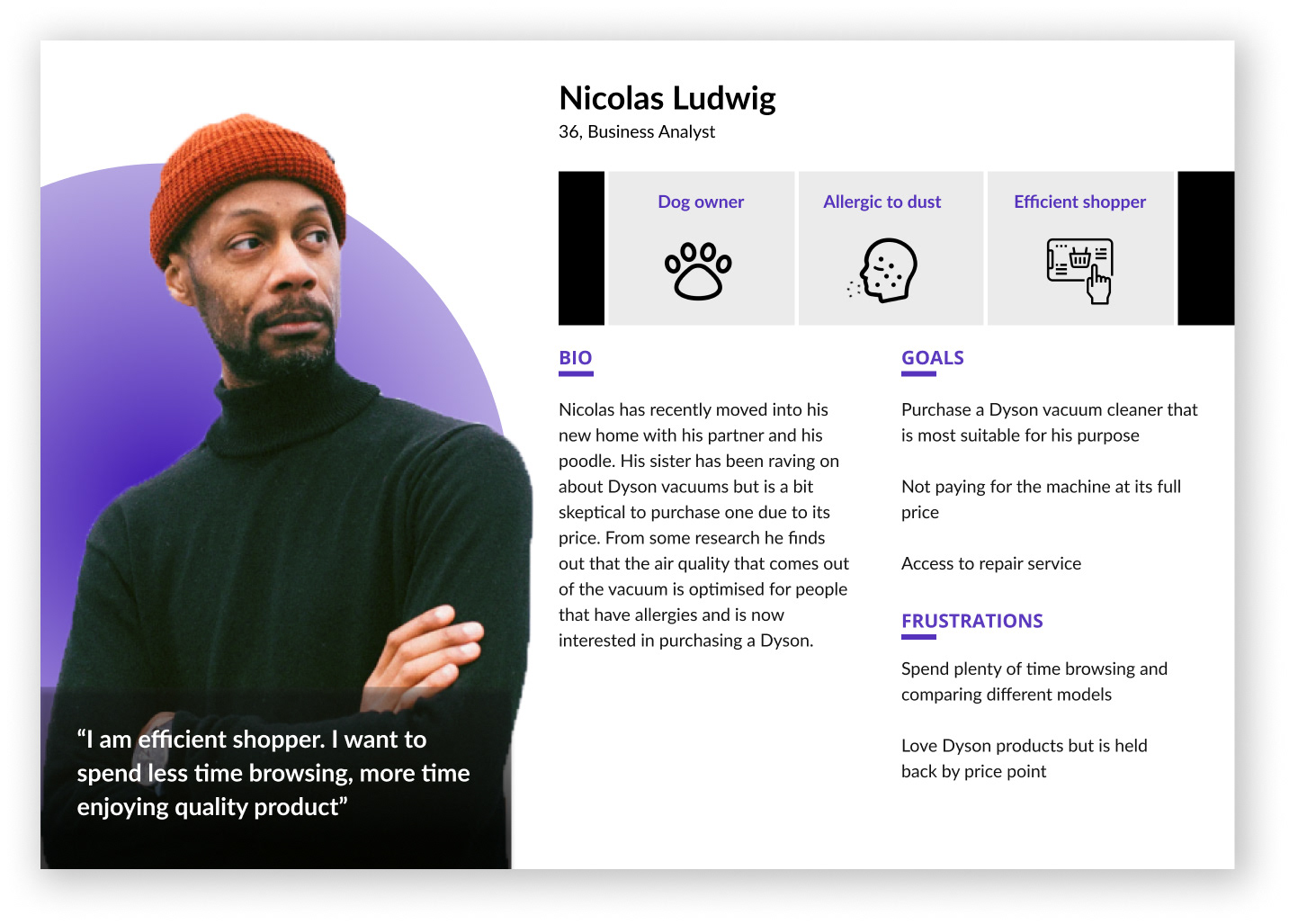 VISUALISING NICOLAS'S SHOPPING JOURNEY
Nicolas's experience journey at dyson.com.au can be described: confused about the information, frustrated because he doesn't know which machine suits his purpose best and uncertain about price tag. He is unlikely to return.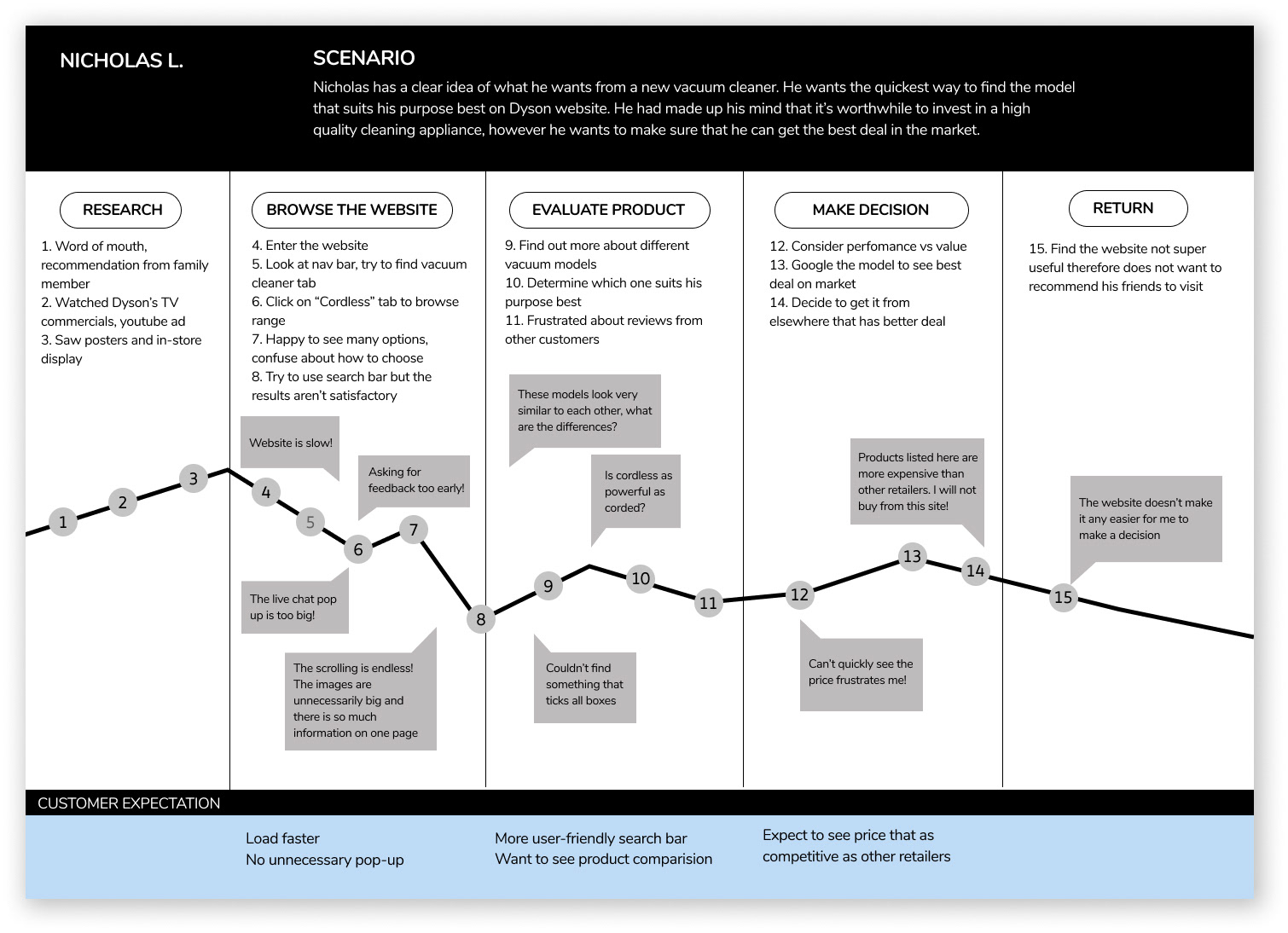 Why should Dyson care about improving online shopping experience?
In Australia, shoppers exhibit increasing inclination and acceptance to online shopping ​
82%
believed they would find the best price by researching products online
75%
see price as the primary determinant to click through to retailer websites
Dyson.com.au is an e-commerce site with relatively high traffic (over 11k visits per day in July 2020 (similarweb.com) with bounce rate of 46%). For many the website is where they can browse product range and get official information from. not so much of a shopping destination. With existing strong marketing strategy and online presence,plus the shift to online shopping trend due to increasing convenience, there is opportunity for Dyson to improve customer experience on their official site, make it a top destination for those who consider buying premium domestic appliances.
What should be considered from a business perspective
Retain customer engagement on dyson.com.au
From a business perspective, it is important that Dyson retains engagement with the website and avoids redirecting traffic to affiliate websites, from where buyer's interest can be diverged to Dyson's competitors which results in a conflict of interest. This was an important milestone that marks our decision to move away from having external links to Dyson's partnered retailers.
Assessing credibility of reviews
Reading reviews appears to be a must-do task for consumers. However it is understood that there is an issue surrounding credibility of reviews being selected and displayed on manufacturer websites. To improve credibility, Dyson may want to contact customers to resolve the complaints before suggesting them to submit a review which can reflect Dyson's post-purchase customer care.
What can be done better to enable shoppers: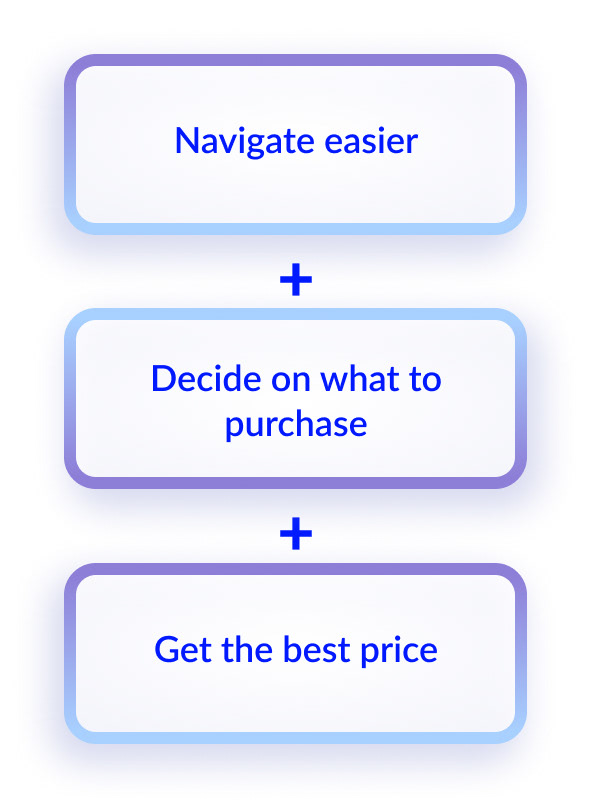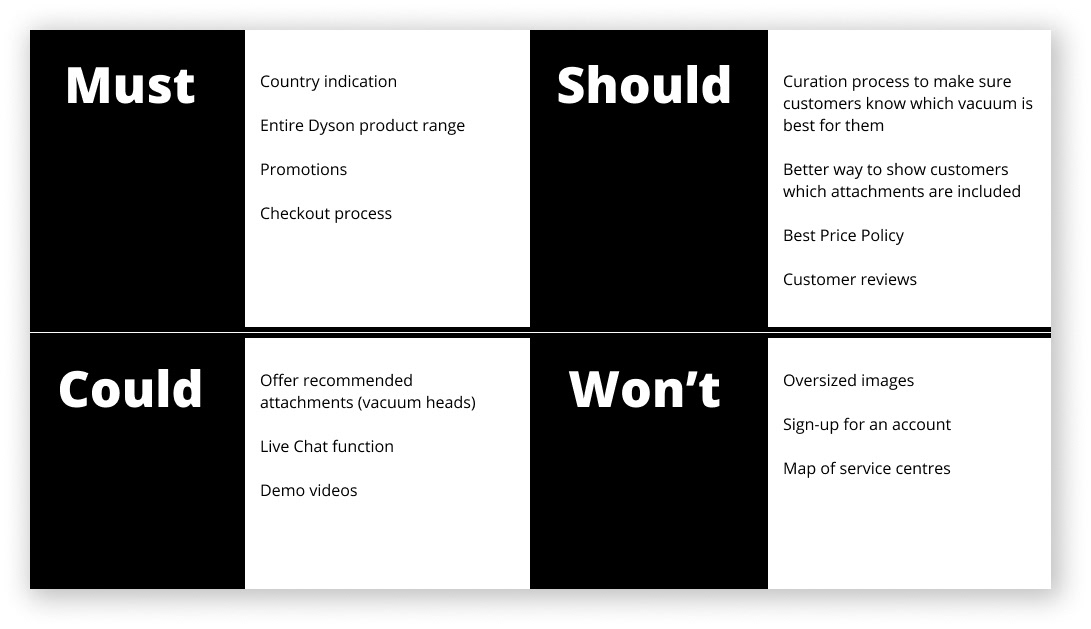 INCORPORATE "QUIZ" AND "PRICE MATCH" FLOWS INTO EXISTING WEBSITE FLOWS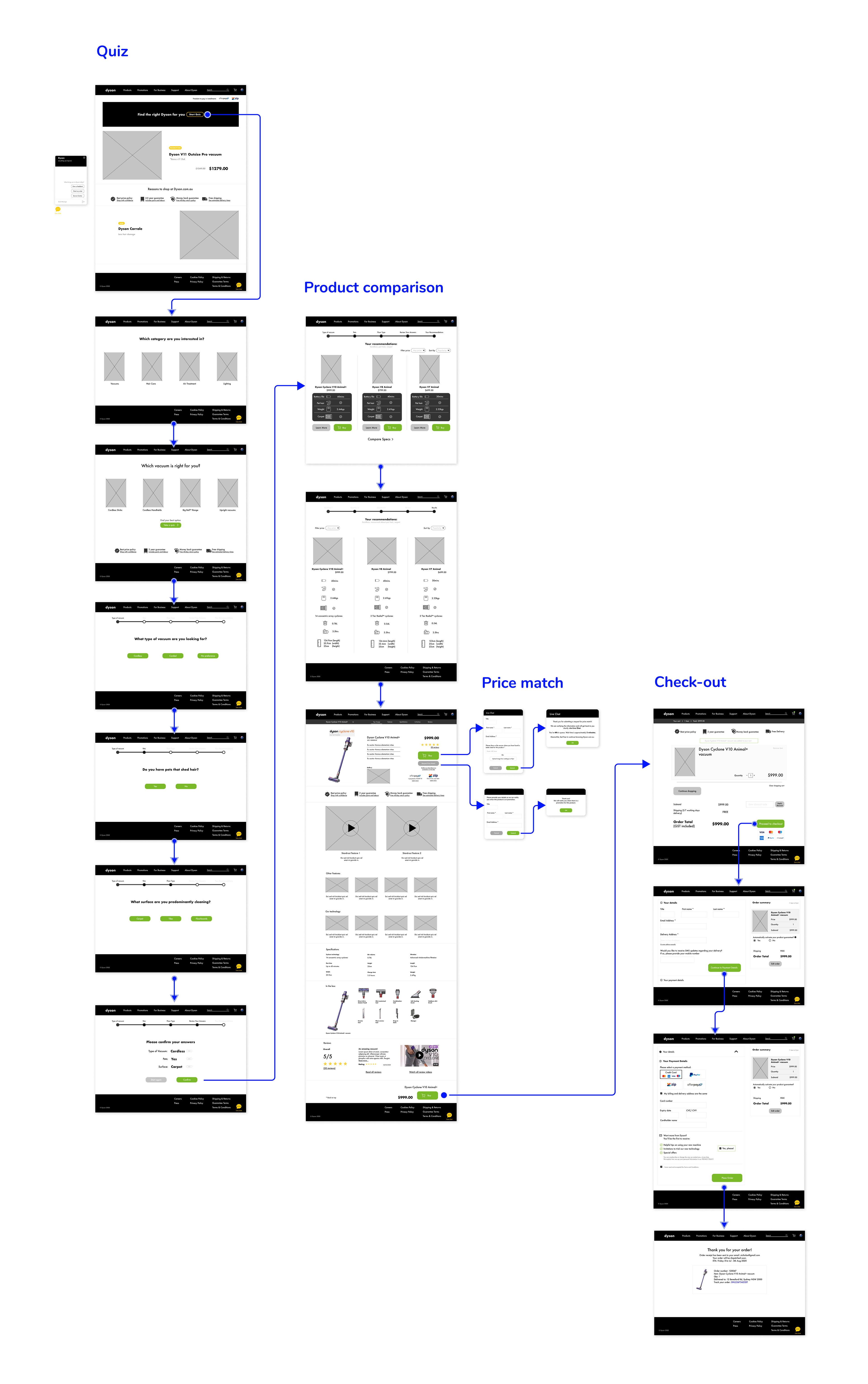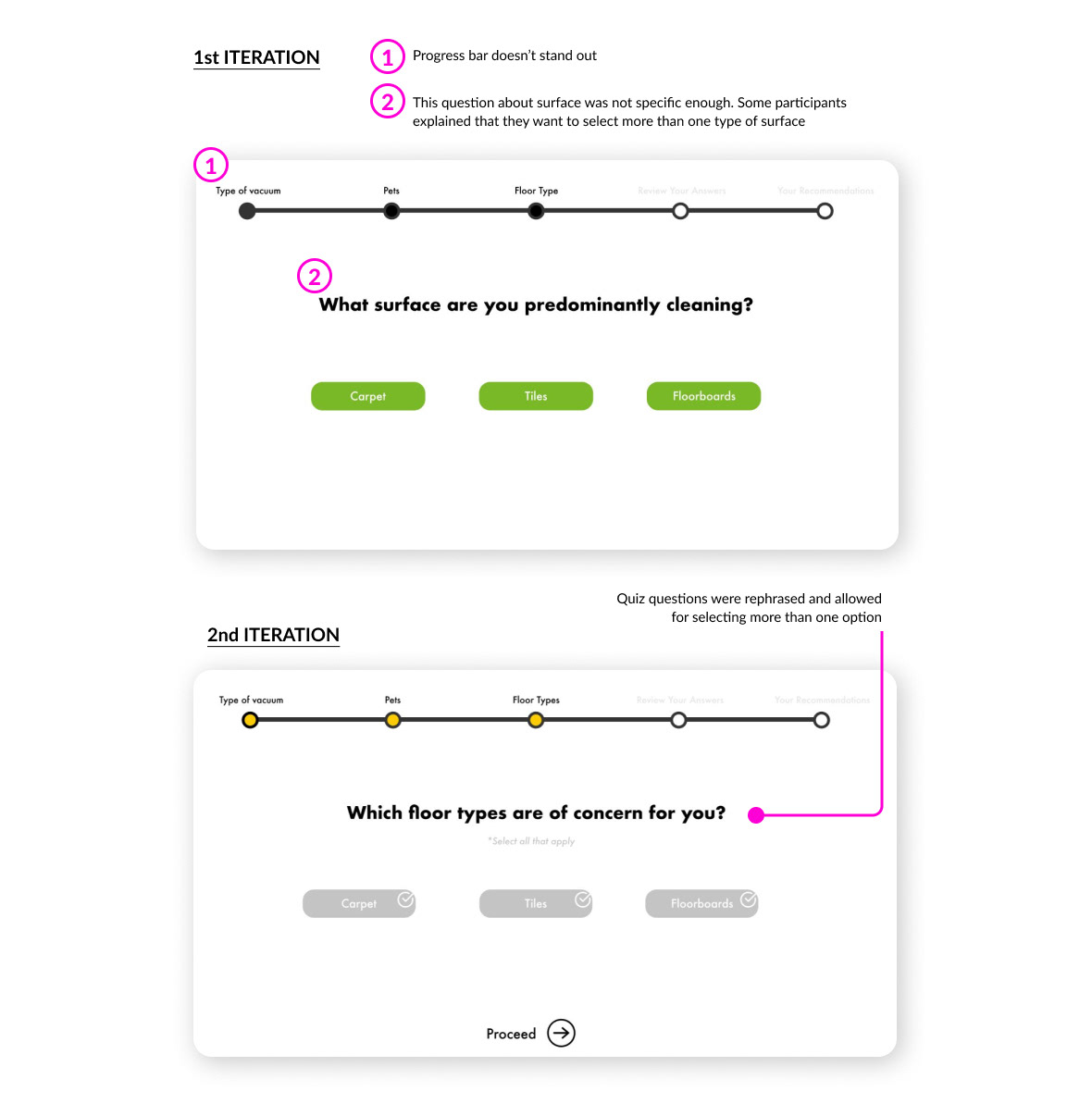 VIEW QUIZ RESULTS & COMPARE PRODUCT SPECS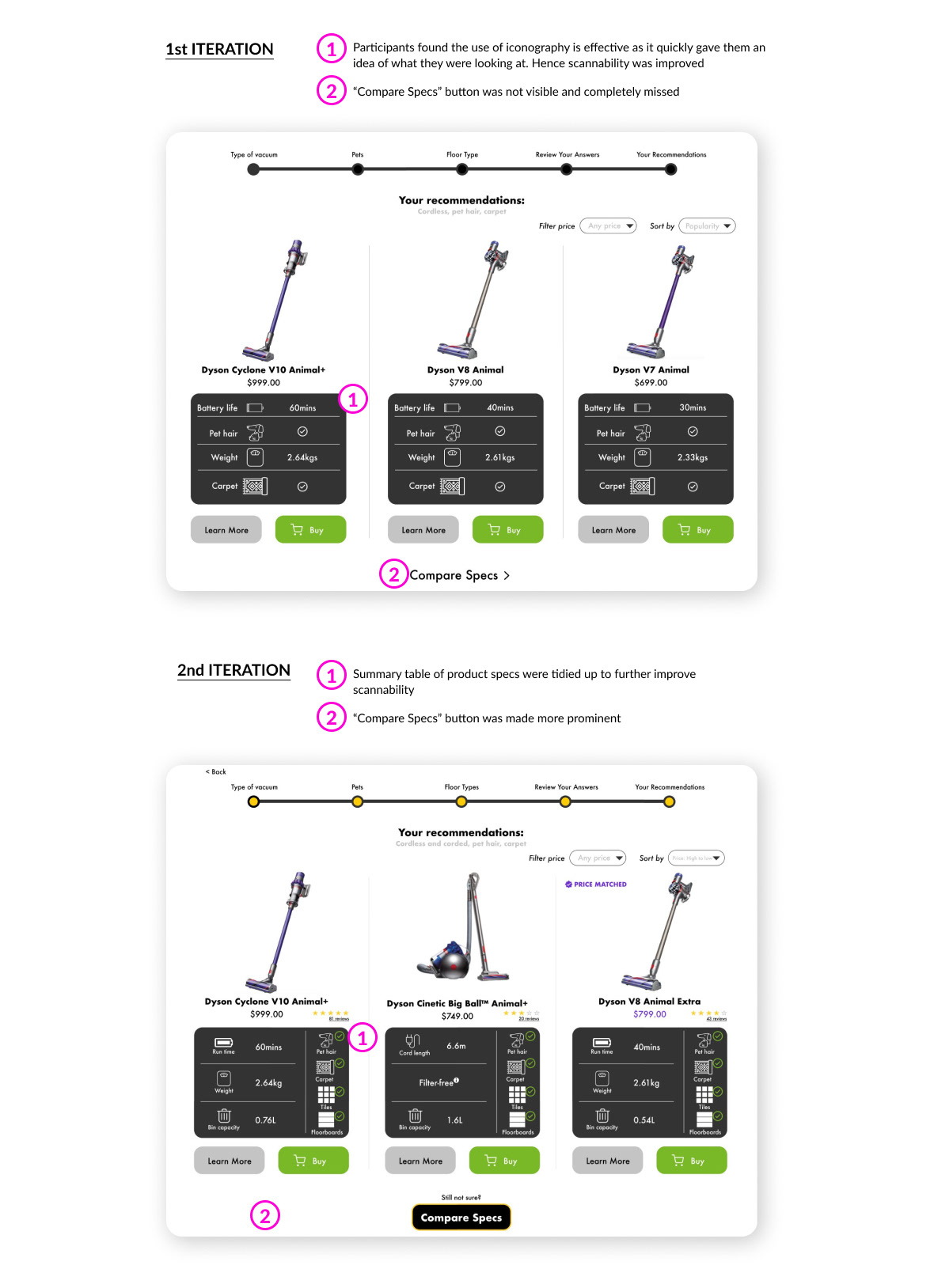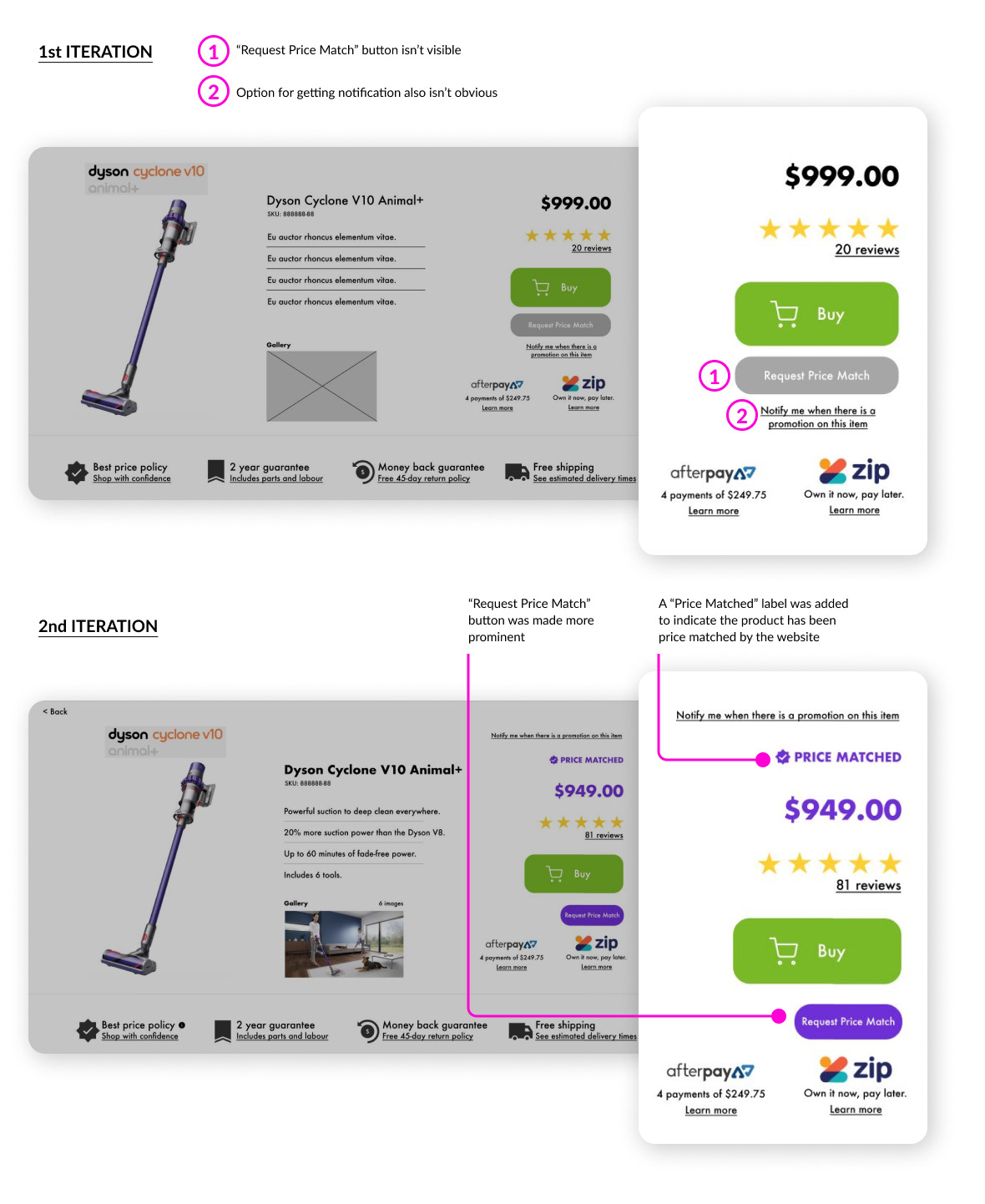 Implementing curated product recommendations to help with decision-making
Implementing curated product recommendations to help with decision-making
Optimising the Best Price Policy/ Price Match to compete with third party retailers
Continue to test and get feedback
Continue to test and get feedback for the latest iteration with primary and secondary personas to determine the success rate of newly implemented features.​
Incorporate product recommendation for other categories
Create curated product recommendations for other product categories (Hair care appliances, Air treatment appliances, Lighting). In order to know the right question to ask (quiz), more research on purpose of use needs to be carried out in order to know the exact goal of each user group.
Investigate Dyson for Business
A B2B segment of Dyson. Product range in this segment differs from the retail segment. First step to begin this journey is to define the target market and understand their motivation behind having Dyson appliances for their establishments.
It can be frustrating to learn that what we design may not work as well as what we pictured in our mind. Keeping an open-minded and be ready to reiterate upon feedback is the first step for growth.
I was lucky to work with two hard-working team mates. I learned that it is important to use project management tools to effectively overlook the project, prioritise and allocate tasks among team members. Giving the tight project time frame of 2.5 weeks, a daily project stand-up can be practiced so that everyone can stay informed about the group's progress.
Interested in buying Dyson V11 pro vacuum cleaner?